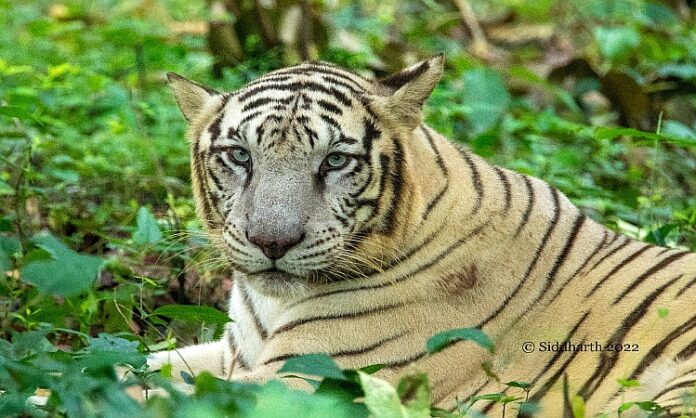 Mysuru (Karnataka): The tiger population in India grew by 200 over the last four years to reach the count of 3,167 in 2022, revealed the latest tiger census data released by Prime Minister Narendra Modi here on Sunday.
According to the data, the tiger population stood at 1,411 in 2006, 1,706 in 2010, 2,226 in 2014, 2,967 in 2018 and 3,167 in 2022.
The tiger census report was released at a function to mark the 50 years of 'Project Tiger'. The PM also launched the 'International Big Cat Alliance' (IBCA), which will focus on protection and conservation of seven major big cats of the world, including tiger and lion.
Also Read: Wildlife survey on in Kaimur sanctuary to declare it as tiger reserve
A booklet 'Amrit Kaal Ka Tiger Vision', presenting the vision for tiger conservation in the next 25 years has also be released by the PM, who said that protection of wildlife was a universal issue, adding that IBCA was India's endeavour for the protection and conservation of big cats.
"Cheetahs had become extinct in India decades ago. We brought this magnificent big cat to India from Namibia and South Africa. This is the first successful transcontinental translocation of the big cat," said Modi.
Also Read: India home to 70% of total tiger population in world
For wildlife to thrive, it is important for ecosystems to thrive and this is happening in India. "India is a country where protecting nature is part of culture… We do not believe in conflict between ecology and economy, but give importance to coexistence between the two," he noted.
Bandipur completes 50 years as Project Tiger Reserve, but its legacy dates back to the Maharajas.
Also Read: Accidental deaths of tuskers in Karnataka leave animal lovers worry
In July 2019, the Prime Minister had called for an 'Alliance of Global Leaders' to "obliterate demand" and firmly curb poaching and illegal wildlife trade in Asia.
India launched the IBCA with to bring focus to protection and conservation of seven major big cats of the world — Tiger, Lion, Leopard, Snow Leopard, Puma, Jaguar and Cheetah — with membership of the range countries harbouring these species.