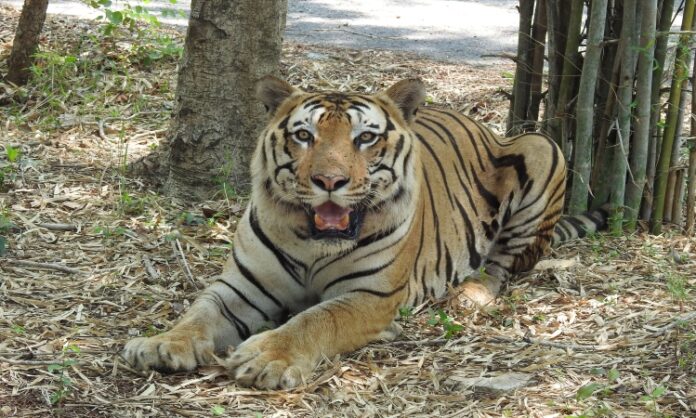 Bhabua: The state environment, forest and climate change department (DoEFCC) has undertaken large-scale survey of wild animals in the Kaimur wildlife sanctuary to complete the formalities for declaring it as the tiger reserve.
Apart from counting the wild animals from trap cameras, drones are being used to capture animals' movement in the uncovered areas of both core and buffer zones of the sanctuary, which is spread in around 1,800 square kilometre.
Also Read: India home to 70% of total tiger population in world
A senior officer of the DoEFCC said that trap cameras have been set up in most areas of the sanctuary. "Various types of wildlife including leopards, deer, bears, cheetahs and horseshoes have been spotted in the sanctuary. The survey is being conducted to identify the animals, which are in good numbers and those on the verge of extinction. It would also help the department know as how many of them are herbivores and carnivores," said the officer, adding that the final report would be prepared in June.
The DoEFCC has separated the core zone and buffer zone and sent an initial propose to the National Tiger Conservation Authority (NTCA) for declaring the Kaimur wildlife sanctuary as tiger reserve. NTCA has given its go ahead to the DoEFCC and supplied a set of instructions to be accomplish. Individual animals are being counted in both the 900 sq km core zone and the 900 sq km buffer zone.
Also Read: Karnataka forest staff save elephant, get PM thumbs up
In 2019, the officials had for the first time seen the pub marks of tiger. A trap camera had in 2020 spotted a tiger moving in the Tilauthu area of the sanctuary. "We are focussing to capture animals movement in the 300km corridor of the forest, connected to Uttar Pradesh, Madhya Pradesh and Jharkhand through drone camera.
The Kaimur sanctuary is connected to the tiger reserves of UP, Madhya Pradesh and Jharkhand. This is because there are more than 100 different species of small and large wild animals in the Kaimur sanctuary. There is a 300 km corridor from Kaimur sanctuary to Dubri tiger reserve in Madhya Pradesh via Sonbhadra and Mirzapur in UP. To the south lies the Palamu tiger reserve and Garhwa forest in Jharkhand. Forest animals coming and going along the corridor connecting Kaimur with other states will be identified by drones.
Wildlife survey underway
Warden of Kaimure wildlife sanctuary PK Gupta said that the NTCA would take the final call on declaring the sanctuary as tiger reserve once all the survey report in detailed are sent to the authority in June.