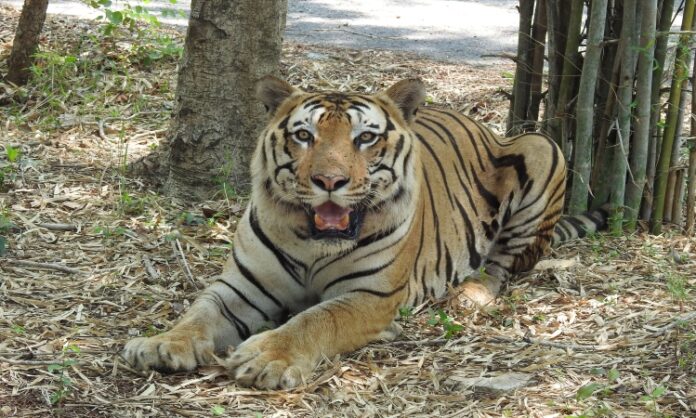 New Delhi: India is home to more than 70% tigers across the world. This was stated in a report filed by the Central government to the Supreme Court. The report, citing 2018 status, claimed that there are 2,967 tigers in the country spread across 53 tiger reserves.
Additional solicitor general Aishwarya Bhati, representing the Centre, submitted before a bench of Justices KM Joseph and BV Nagarathna that Union ministry environment and forest had undertaken various measures to conserve the tigers and increase their population.
Also Read: Bannerghatta biological park declare the death of tiger
The National Tiger Conservation Authority (NTCA), in the report, said: "India has become home to more than 70 % tiger population in the world. A comprehensive report of All India Tiger Estimation (2018) was released on July 29, 2020. The fourth round of country level tiger status assessment completed in 2018, with findings indicating an increase with a tiger population estimate of 2,967 (lower and upper limits being 2,603 and 3,346 respectively), as compared to the last country level estimation of 2014, with an estimation of 2,226, 2010 estimation with an estimation of 1,706 and 2006 estimation, with an estimate of 1,411."
According to the report, the NTCA undertook various effective strategies to increase tigers' population to a respectable count from the brink of extinction, which is evident in findings of the quadrennial All India Tiger Estimation conducted in 2006, 2010, 2014 and 2018.
Also Read: Taskforce set up to watch Cheetah introduction, frame regulations
"These results have shown a healthy annual growth rate of tigers at 6 per cent, which offsets natural losses and keeps tigers at the habitats carrying capacity level, in the Indian context," the report said, adding that the fifth cycle of All India Tiger Estimation is currently ongoing and it will be completed in 2023.
"Status of leopards in India was released wherein population estimate of 12,582, was reported in assessed areas of tiger landscape. This increase is more than 60 per cent in comparison to the last such assessment done in 2014," it added.
Also Read: Project Cheetah: India-Namibia sign pacts on wildlife conservation
The status report was filed in response to a petition filed by advocate Anupam Tripathi in 2017 seeking to save endangered tigers whose numbers are dwindling in the country. The top court recorded Bhati's submissions and scheduled the matter for further hearing in March, as Tripathi was not present.
In 2017, the apex court had issued notice to the Ministry of Environment, the National Board for Wildlife, and the NTCA.