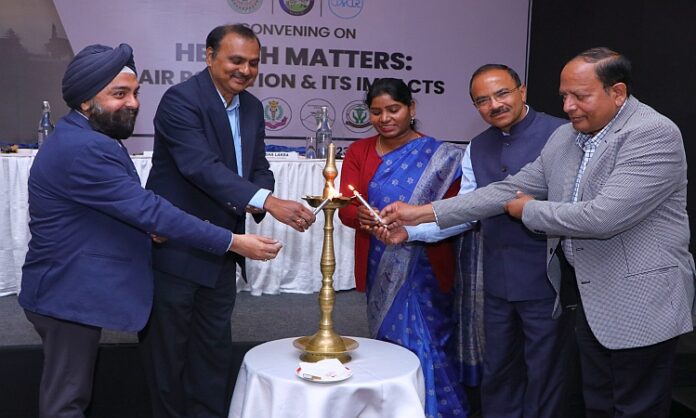 Ranchi: Researchers, health professionals and policy makers of Ranchi's urban local body—Ranchi Municipal Corporation (RMC)—on Wednesday stressed the need for devising a comprehensive strategy to check negative impact of air pollution on public health in the state.
Hundreds of researchers, delegates, health professionals and members of civil society attended the conference on "Health matters: Air pollution and its impacts" organised by the Asar Social Impact Advisors in collaboration with the RMC here at Ranchi. All of them were in agreement that a practical strategy shall be worked out to curb the impact of air pollution on health. Ranchi Press Club, Jharkhand State Health Services Association, Tribal Medical association and Indian Medical Association, Jharkhand also cooperated in the event.
Also Read: File reply on Bihar's air pollution in 3 weeks: Patna HC tells BSPCB
Ranchi mayor Asha Lakra stressed that air pollution is not a city, not a state specific but a national issue. "Hence it needs a strategic collective approach to look for its effective solutions. Being said that, the role of the society and individual endeavor cannot be undermined," she said.
She stressed that Ranchi is the face of the state and it should set the example for other cities to follow. On the way forward, she said that it important to raise awareness amongst the people on this issue, bring more stakeholders like industrialists and businessmen on board and collectively work towards it.
Also Read: Bihar to witness highest rise in aerosol pollution in 2023: Study
A panel of eminent experts discussed solution-oriented approaches to reduce the impact of air pollution on human health such as the issuance of health advisories, health sector preparedness, localized emission inventory, air quality forecasting among various other solutions.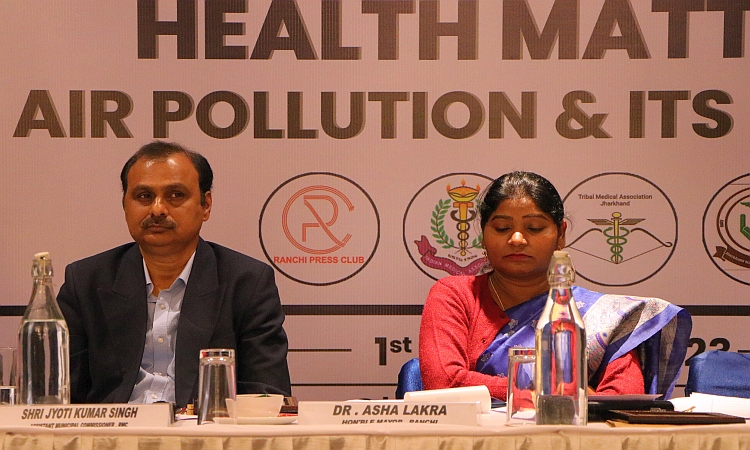 Gufran Beig, founder director, System of Air Quality Forecasting and Research (SAFAR) programme at the Indian Institute of Tropical Meteorology (IITM) under the ministry of earth sciences (MoES) said, "It is high time that we should have air quality forecasting system for planning interventions and issuing health advisory for risk reduction and preventive measures."
Also Read: Lohardaga, Bokaro mothers join hands to curb kitchen air pollution
Manjeet Singh Saluja, technical officer, World Health Organisation (WHO)-India said, "Air pollution is one of the greatest environmental risk to health and it requires a concerted effort among all stakeholders where the role of health care professionals is important. Air quality is closely linked to the earth's climate and ecosystems globally. Many of the drivers of air pollution are also sources of greenhouse gas emissions. A resilient health system that protects the health effects caused by air pollution, especially those who are vulnerable, needs to be prioritised."
In an audiovisual clip, which was played at the conference, Shashi Ranjan, commissioner, RMC said, "The corporation has already prioritized reducing air pollution as an important public issue and we are taking a proactive approach in adopting innovative cleaner solutions. We are promoting public awareness to bring support at the forefront. The deliberations held today are expected to set a new direction for the Corporation's efforts to reduce the health effects of air pollution too."
Also Read: Jharkhand pollution panel to meet industry bodies on Carbon Neutrality
Jyoti Singh, assistant municipal commissioner, Shambhu Prasad, president, IMA (Jharkhand), Mritunjay Thakur, secretary, Jharkhand State Health Services Association, Polash Mukherjee, Lead-National Resource Defense Council, Tanushree Bhatacharya, assistant professor- BIT, Tanushree Ganguly, program lead- CEEW, Atri Gangopadhaya, Governor-Chest Council of India, Nitish Priyadarshi, environmentalist, were prominent among those spoke on the occasion. The discussion focused on risk reduction and preventive measures for air pollution.
It also offered a forum for discussion on the effects of air quality on health and a chance to share experiences, needs, and concerns. A more practical and participatory approach is necessary to achieve clean air with health at the forefront.