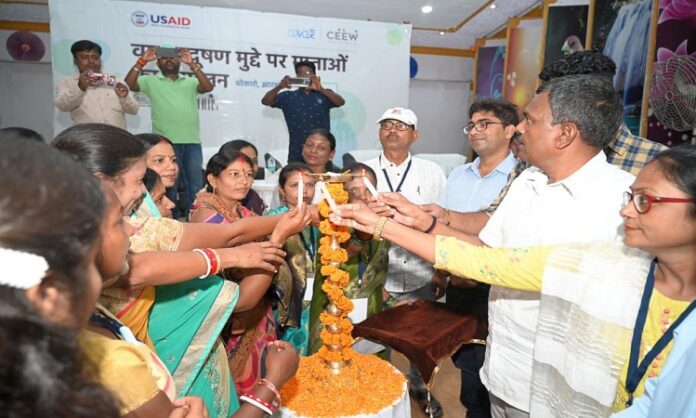 Ranchi: Over 600 mothers from different panchayats of Lohardaga and Bokaro joined hands with doctors to create awareness on air pollution and discussed ways to tackle the issue, at a one of its kind 'Conference of Mothers on Air Pollution' held at both the places on Friday.
In Lohardaga, the conference was organised by NGO Hope and Warrior Moms, a nationwide mothers network for clean air while in Bokaro, it was organised by NGO Samvad and Warrior Moms. Mothers assembled at the conferences, two days after the United Nations International Day of Clean Air for blue skies was observed across the world on September 7.
Many women shared their personal stories of dealing with air pollution on a day to day basis-from having to live with toxic fumes coming out of chulhas to living with the pollution from stone quarries and mining activities. The objective of the conferences was to bring together mothers, doctors and policy makers to have a conversation around the issue of household air pollution that is largely ignored in the popular discourse of air pollution.
Dhiraj Prasad Sahu, Rajya Sabha MP from Jharkhand, who was present at Lohardaga event congratulated the Warrior Moms and said, "We want to see Lohardaga free from air pollution and we want each one of you to work towards the goal."
Lambodar Mahto, MLA from Gomia, who spoke at Bokaro event said that it was great to see so many concerned mothers talk about an issue as important as air pollution. "Clean air is a fundamental right of everyone. We are happy that the Warrior Moms are raising awareness about this important issue. I congratulate you all and hope we all work together to tackle this issue," said Mahto.
Also Read: Jharkhand pollution panel to meet industry bodies on Carbon Neutrality
Only 32% households in Jharkhand have access to clean cooking fuel such as LPG which makes the issue of biomass burning (use of chulhas) crucial in the state. Several mothers who convened at the conferences have been working on creating awareness in the community on the issue of household air pollution caused from the chulha which poses huge risks for the health and well being of women and children due to their high exposure to it. Manorama Ekka, Warrior Mom from Lohardaga and Founder-Trustee of NGO Hope said, "There are various hurdles in the transition to clean cooking fuel in rural areas- from financial constraints, perceptions about LPG and social norms. What we need to tackle the issue is a mix of policy intervention and behaviour change campaigns. This conference is one such platform that brings the two together- we discuss the issue, create awareness and work towards solutions."
Doctors spoke about the specific health impacts for women and children due to their constant exposure to chulhas. At the Lohardaga event, gynaecologist Anjana Lakra said, "Effects of inhaling the toxic fumes from chulhas range from mild- like cough, sneezing and trouble in breathing to severe such as-lung damage and Chronic Obstructive Pulmonary Disease. Most of these impacts are seen after years of chulha usage by which time it is too late to act. Thus timely awareness and intervention is a must to tackle the issue."
Also Read: UK Govt launches Chevening scholarship for Jharkhand students
Mothers said the conference was an important forum to discuss an issue that is mainly neglected from everyday conversations at the local level. "We aim to take this forward because we are really worried about the future of our children, who have to deal with the consequences of rising air pollution. Currently we are working on a project where we are mapping air pollution sources in different panchayats and we hope that this can help us collect data which we can then take to policy makers and request action on, said Deepmala Devi, a Warrior Mom from Jarandi panchayat, Bokaro.
The Bokaro conference also saw a photo exhibition which highlighted the impact of mining on the health and well being of locals in various parts of Jharkhand. "It highlights the human side of the issue of air pollution. Several studies have shown that people exposed to mining sites can have disastrous health impacts ranging from breathing issues to chest congestion and lung damage and there is a need to bring these voices to the fore," said Shekhar, Trustee, NGO Samvad.
Jharkhand emerged as India's eighth most polluted state according to the Air Quality Life Index (AQLI) annual report released in June 2022. Warrior Moms, NGO Hope and Samvad are working together to create awareness, build a dialogue and encourage action to address the issue.