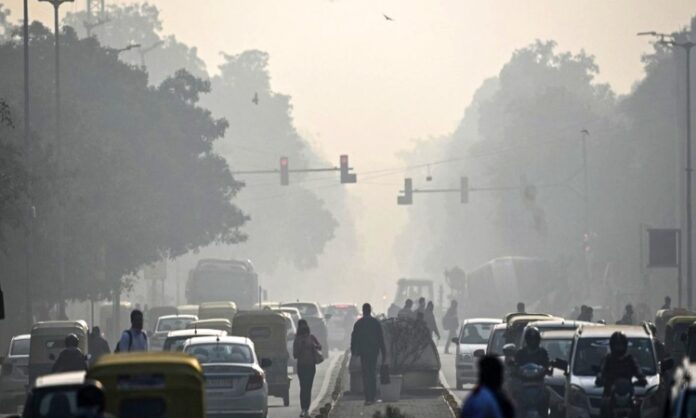 Patna: The Patna high court has directed the Bihar state pollution control board (BSPCB) to file a detailed affidavit within three weeks regarding the condition of air pollution in 12 cities of Bihar and the steps taken to check it.
Taking suo moto cognisance of the media reports that saw the skies of many Bihar cities being enveloped by toxic air for a long time, a bench of Patna HC, comprising Chief Justice Sanjay Karol and Justice Partha Sarathi, has sought to know from the BSPCB as why the situation was not improving despite various measures, including implementation of the action plan to curb air pollution, taken by the stakeholders.
Also Read: Patna civic body gets anti-smog gun, gears up to fight air-pollution
Amicus curiae appointed by the court, Shambhu Sharan Singh informed the HC that the level of air pollution in 12 cities are much higher than the standards, while cities like Chhapra, Begusarai and Rajgir have the worst air quality.
"During the hearing of another case, the court had directed the BSPCB to file its counter affidavit in the matter within two weeks. But till now, no detailed affidavit has been filed so far by the board," said Singh.
The level of air pollution in Patna is increasing once again. Patna's air quality index (AQI) has increased to 373 on Monday. Of the six monitoring stations in the city, Samanpura is the most polluted, with pollution levels reaching alarming levels. AQI 441 has been recorded at Samanpura. Rajvanshi Nagar area had the AQI of 388, Muradpur's pollution level was found to be 341. AQI near Indira Gandhi planetarium on Nehru Path was recorded 347 while it was recorded 373 near DRM office, Danapur on Monday.
Also Read: Delhi, NCR undergo rigorous pollution curbs to arrest dip in AQI
The main cause of air pollution in the district is PM 2.5 and PM 10. These are microscopic dust particles present in the air. Due to the climate of Patna and the construction work going on in the city, the amount of dust particles in the air has increased for some time. To stop this, many measures have been taken by the Municipal Corporation, but they do not seem to be of any special benefit.
Patna's air continues to be in the very poor or dangerous category. According to doctors, this type of air can also make a healthy person sick. At the same time, this air pollution is increasing the problems of people related to respiratory diseases.