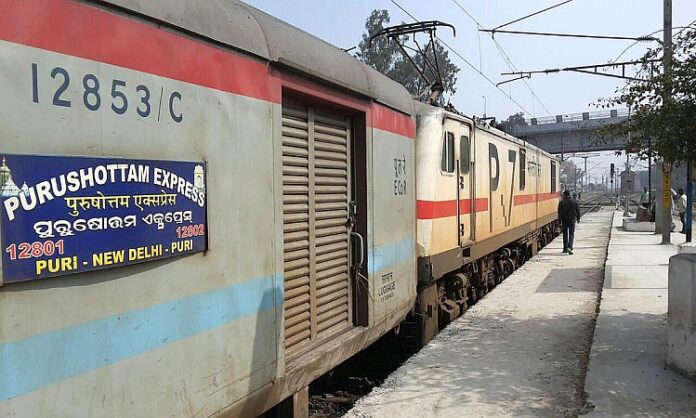 Mirzapur: An intensive search was carried out in the 12801/12802 Delhi-bound Purushottam Express at Chunar station on Sunday after a railway official received a call, claiming that there was a bomb in the train, said the officials. The call was received by the Dagmagpur Station Superintendent (SS) about a bomb in the train.
Soon after getting the information, the train was halted at Chunar station and a contingent of police personnel, including the bomb disposal squad, was called to check the train, said a senior officer of Railway ministry.
"A bomb threat call was received by SS about a bomb in Purushottam Express at Dagmagpur station. The bomb threat turned out to be a hoax. Anti-terrorist squad (ATS) of Varanasi team was called to Chunar station, the train got clearance after checking and departed from Chunar station," said additional superintendent of police Shrikant Prajapati.
Also Read: PM Modi launches Amb Andaura-Delhi Vande Bharat express
The additional SP said that they had to stop the train for nearly four hours for in-depth search operation. "A sort of chaos prevailed among the passengers after they spotted the police personnel with extra shield and sniffer dogs. Later, they realised the gravity of the situation and cooperated fully with the team," said the ASP, adding that further investigation is underway.
Earlier in February, a person was arrested for making a hoax call claiming a bomb on the Bellari Express, police said.
Also Read: Godavari Express derails, none injured; 19 trains on route hit
Speaking to media persons on Thursday, Superintendent of Police (SP), Secunderabad GRP, Anuradha said, "Yesterday evening, we received a call that an explosive device had been planted on Bellari Express. Railway Protection Force personnel and GRP immediately carried out extensive checks."
"During the checks, we found no explosive device and it was ascertained that it was a hoax call. A person from Sanga Reddy was arrested in connection with the matter. A case was registered with the Gopalapuram police station," the SP added.