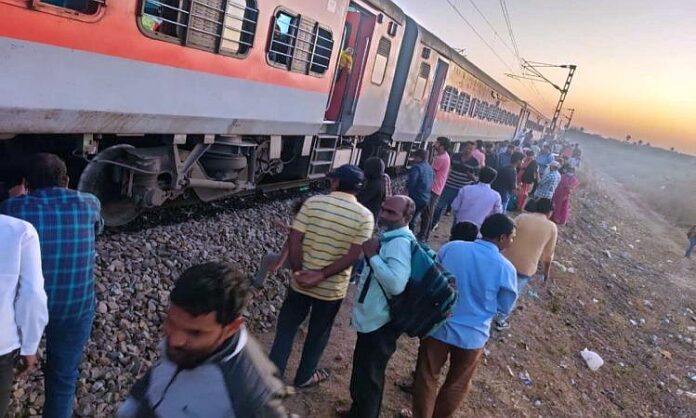 Hyderabad: Passengers aboard 12727 Godavari Express on its way to Hyderabad from Visakhapatnam in Andhra Pradesh had a providential escape when six of its coaches derailed near Ankushapur village between Bibinagar and Ghatkesar railway stations, about 40 km from Hyderabad on Wednesday morning.
There were, however, no reports of injuries to passengers or casualties, according to railway authorities.
Wheels of coaches S1, S2, S3, S4, GS and SLR of Godavari Express (Visakhapatnam – Secunderabad) jumped the track. Passengers are being cleared in the same train by detaching the affected coaches, a railway spokesman said.
Also Read: Indian Rly gears up to run trains safely, avoid delays due to fog
The south central railway had set up a special helpline 040-27786666 for any enquiries about the passengers. Train movement on the busy route came to a halt and all other stations on way to Secunderabad were halted at Bibinagar station.
A total of 19 trains were totally or partially cancelled due to the derailment of the coaches of Godavari express according to South Central Railway.
Earlier on January 18, the wheels of a general coach of the Visakhapatnam-Kirandul train derailed at Sivalingapuram station in the Kottavalasa-Araku Section, officials of the railways ministry said.
Also Read: Vande Bharat exp pelted stones near Katihar, windows damaged
The accident took place when the train was entering the station. Officials said that the accident could be caused due to steep gradient section, very difficult terrain, or the temperature drop is under investigation.
The authorities swung into action mode as soon as the derailment took place. An accident relief train was immediately rushed to Shivalingapuram station from Visakhapatnam. divisional railway manager (DRM) Anup Satpathy along with a team of engineers rushed to the site to monitor the relief and restoration operations. The derailed coach was detached from the train and was sent to its destination, Kirandul.