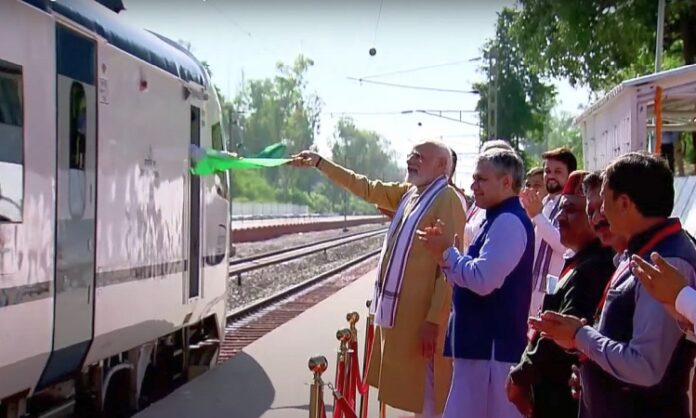 Una (Himachal Pradesh): Prime Minister Narendra Modi flagged off the fourth Vande Bharat Express train from Himachal Pradesh's Una district on Thursday. The train, which will run between Delhi and Amb Andaura in Himachal Pradesh, is the first Vande Bharat train for the state, going to the assembly elections soon.
"The semi-high speed train will run on all days except Wednesdays," a senior railways official.
With the launch of the new service, the travel time between Delhi and Chandigarh would be brought down to three hours next week onwards. It would take around five hours to cover the distance from the national capital to Himachal Pradesh.
According to a statement from the Railway, the just launched train is an advanced version of Vande Bharat express, which picks the speed of 100 km/h in just 52 seconds. "The introduction of the train will help boost tourism in the region and provide a comfortable and faster mode of travel," reads a government statement. It would also help pilgrims and devotees visiting religious places in Himachal Pradesh, Punjab and Haryana, the Railways Ministry said.
PM Modi has also dedicated an IIIT Una to the nation, the foundation stone of which was laid in 2017. Currently more than 530 students are pursuing study in this Institute, as per the government.
In a push to the government's Atmanirbhar Bharat scheme, the foundation stone of a bulk drug park at Haroli in Una district, which will be built at a cost of over ₹1900 crore, has also been laid by the PM Modi. This is expected to reduce imports, attract investment of around ₹10,000 crores and provide employment to more than 20,000 people in a boost to the state economy.
Earlier this month, the third rake of Vande Bharat Express train between Gandhinagar and Mumbai, inaugurated by the PM from Gandhinagar. It is for the first time Indian Railways has begun using upgraded version of Vande Bharat (2.0) trains, with many advanced features and enhanced safety.
Vande Bharat train timings
As per officials, the train is set to run everyday except on Wednesdays and will halt at Ambala, Chandigarh, Anandpur Sahib, and Una. The train will start its operations at 5:50 am from New Delhi to Amb Andaura and will reach Amb Andaura railway station at 11:05 am. Meanwhile, during its return journey, the train will depart from Amb Andaura at 1 pm to reach New Delhi at 6:25 pm.
The semi-high-speed train utilizes the KAVACH (Train Collision Avoidance System) for improved operational safety. Also, there are four emergency windows on every coach of the Vande Bharat train. Furthermore, it gets four platform side cameras, including rearview cameras outside the coach, instead of two earlier.
Launch of Vande Bharat Express
The first-ever Vande Bharat Express was flagged off to run between Delhi and Varanasi. The country's first semi-high-speed train has stops in Allahabad and Kanpur as well. The second Vande Bharat train was introduced between Delhi and Shri Vaishno Devi Mata, Katra. Meanwhile, the third run between Mumbai and Gandhinagar.