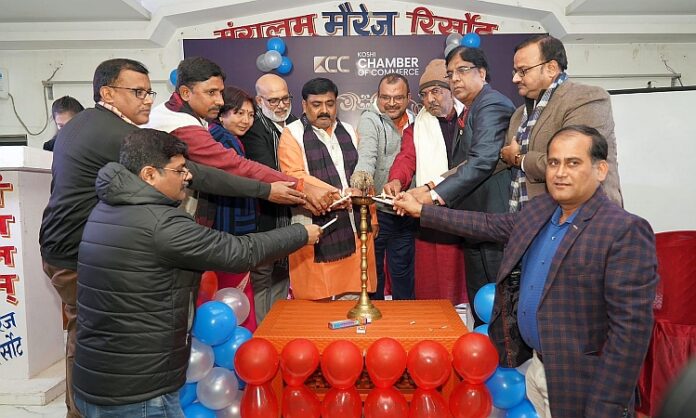 Saharsa: Perceiving the online marketing outlets as threat to local business, functionaries of the Kosi Chamber of Commerce (KCC), Saharsa, called for unity among traders and bid to rebuild trust among the masses to bolster their businesses.
This concern was expressed by the traders affiliated to the Kosi Chamber of Commerce, Saharsa, during the annual function of the organisation on December 27, which was attended by former minister and local MLA Alok Ranjan and Bihar Chamber of Commerce and Industries (BCCI) and Bihar Industries Association's (BIA) representatives, including Mahesh Jalan and Manish Tiwari.
Also Read: 'Sustained efforts needed to develop Bihar as an industrial state'
Mahesh Jalan of the BCCI said that the real threat to business institutions is from online marketing. "We businessmen are connected to the society in the city. Our brothers also open and burn incense shops but book orders to Amazon, Zomato Mintra and Flip Kart," he quipped.
KCC president Arjun Dahlan said, "Everything is possible only with our unity." He also said that the traders shall have mutual coordination and thanked all the members from the chamber for showing resilience to fight the challenged with determination. Dahlan said that the KCC is committed to social harmony and the interest of the society and wished everyone a great new year.
Also Read: Let's Inspire Bihar aspires to grow as incubators for startups
Former minister and Saharsa MLA Alok Ranjan said, "I have been a minister and the local MLA, but I am happy when someone calls me a businessman. My identity is as a businessman in the city," he added.
BCCI and BIA representatives, Mahesh Jalan and Manish Tiwari presented citation and momentum to the president and the general secretary of the KCC. BIA president Arun Agarwal also sent his greetings.
Nagar Parishad chairperson Renu Sinha, former MLA Kishore Kumar Munna, Bihar Pradesh Marwari Sangh, Patna, president, Mahesh Jalan, Bihar Pradesh Marwari Sangh, president of Patna unit, Yugal Kishore, Radheshyam Agarwal of Saharsa Marwari Sangh, deputy development commissioner of Saharsa, Sanjay Kumar Nirala, president of KCC Arjun Dahlan, general secretary Vivek Vishal lighted the traditional lamp at the programme.
Also Read: Govt teams up with FICCI to promote investments in agri sector
KCC general secretary Vivek Vishal made presentation of the works done in the year since the establishment of the chamber and gave his warm speech and resolved to solve the problems of the businessmen every moment. The KCC also distributed more than 10,000 masks during the corona period, 100 track shoots in sports competitions organized under the auspices of state and district administration, 100 T-shirts on International Yoga Day, 10 traffic trolleys to the district traffic police for communal harmony.
Proprietors/representatives of more than 50 establishments attended the function with their families. A cultural program was held in the hall of Mangalam Resort till late evening, where people enjoyed the songs of singers and modern dances as well as tasted delicious dishes. Singer Shyama Shailja enchanted the audience by singing old songs in her melodious voice. Girl Drishti Jha sang the national anthem. Naveen Kumar Singh and his team's dance performance captivated the audience.
Also Read: National agribusiness meet offers models to maximise farm return
Santosh Dutta, Saharsa branch president of Bihar Pradesh Marwari Samiti, Amar Dahlan, Saharsa branch president of Bihar Provincial Marwari Mahila Samiti Sushma Dahlan attended the event.