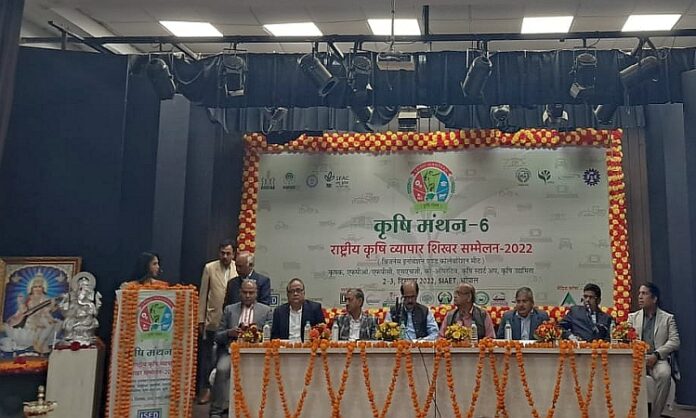 Bhopal: The two-day National Agribusiness Summit, 'Krishimanthan-6', organised by the Integrated Socio-Economic Development (ISED) Service began at the state institute of agriculture extension and training (SIAET), Bhopal, on Friday.
The theme of this year's business innovation and collaboration meet is the exchange of knowledge between farmer producer organisations (FPOs), self-help groups (SHGs), startups, knowledge institutions, business organizations and service providers, mutual trade, integration of business models and business activities to enhance sustainable livelihood options in rural areas.
Veterans of agriculture production, processing and marketing fields participated in the first day of the event and exhorted FPOs, SHGs and startups companies to make the best of available technologies and marketing platforms to multiply the farmers' income and benefit those involved in the various auxiliary processes.
Chairman of the ISED Dwarika K Singh welcomed the guests and detailed about objectives of the event. He said that the programme seeks to bring all links of agribusiness together to maximise the understanding of capacity building of farmers and FPOs and provide them market linkages.
Also Read: Next phase of growth in India: Potential for farm & rural renaissance
Chief executive officer of BSE e-agriculture market (BEAM) Nilotpal Pathak called up on the FPOs to leverage the e-market platform of BEAM and get better return of their agricultural produce. "The BEAM's platform has transacted agricultural produced worth ₹1,000 crore since it became operational last year. Around 300-350 FPOs have registered themselves for e-market facility with BEAM, which also seeks to create a complete ecosystem of physical market place through convergence of input partners, logistics, warehouses, etc," said Pathak, adding that the company also works with the six state governments and other central government agencies to help them procure foodgrains.
Saurav Ghosh of Purusha Prakriti Ecosystem (PPE) pvt ltd was given away Krishi Bhushan award by the SIED Services for his outstanding contributions towards empowerment of FPOs and providing them market linkages. Ghosh, whose firm is closely working with the BEAM, said that barely 10% of the 10,000-12,000 FPOs set up the government were able to work efficiently for want of necessary technical knowhow and fast evolving e-market for commodities.
Whole time member of SEBI SK Mohanty, general manager of Nabard Pankaj Yadav, national advisor, FPO sustainability, Amit Singh, managing director, Livestock and Poultry Development Board, HBS Bhadouria, former director of Samrat Ashok Technological Institute JS Chauhan, director, SAIET, KP Ahirwar and Prashant Jai of National Commodity and Derivatives Exchange Limited (NCDEX) also spoke on various aspects of agribusiness.
Also Read: Farmers being paid adequate compensation under PMFBY: Govt
About Krishimanthan
Krishi Manthan is an annual event being organised to bring FPOs/FPCs and SHGs at a common platform for exchange of opportunities and knowledge for market of agriculture produces. It aims to enhance the stability of their business operations and promote sustained livelihoods around them through the commercialization of their products, services and activities. It also seeks to explore innovative business models and value chain linkages with startups, agribusiness companies, research institutions, CSR, post-harvest operators, food processing companies, Ayurveda institutes, nature care companies, financial institutions, retailers, exporters, service providers etc.