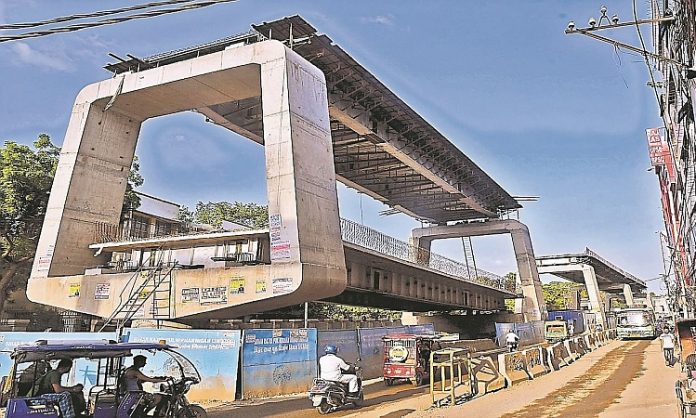 Patna: The only double decker flyover on Ashok Rajpath in Patna, one of the busiest roads of the capital city, is likely to be opened for traffic by next year. So far, 25 steel girders have been laid, out of which 4 steel girders are installed on the first floor and 21 steel girders are installed on the second floor.
Officials of the Bihar Rajya Pul Nirman Nigam Limited (BRPNNL), which is building the double-deck flyover to decongest the traffic on Ashok Rajpath, said that out of total 315 piles, 200 have been laid. Four piles have been ready this month and work is going on 11 pier caps in Tier 1, while work on 22 pier caps in Tier 2 has finished.
Project is likely to cost ₹442-Crore
The entire 2.28km project is being constructed at a total cost of ₹442 crore. The BRPNNL The double-decker flyover, with two lanes on each layer, is likely to be operational by 2025," the official said, adding when completed it will smoothen the traffic flow from Kargil Chowk to NIT-P chauraha.
Also Read: Patna's Lohia Path Chakra to have underground roundabout
The total length of tier I (second level) will be 1.5km and it will start from Patna College and ends at B N College. On the other hand, the 2.2-km-long tier II (upper level) will cater the traffic movement between Kargil Chowk and Patna Science College. The traffic lanes on both the levels will be 7.5-metre-wide and it will cater to the one-way traffic movement. While the tier Il will only allow the traffic movements from Gandh Maidan towards NIT Mor, the tier I will allow traffic movement on the eastern side of Ashok Rajpath to B N College.
Work started from Radha Krishna Temple to Govind Mitra Road
Construction of metro rail network, land acquisition and encroachment were hindering the pace of construction of double decker elevated road. However, a small part of the land on which the underground tunnel for metro rail was being built, working has been given for the construction of the elevated road. The construction work of double decker elevated road has started from Radha Krishna Temple to Govind Mitra Road. Now the work of extracting soil has started, so that piling work can be done. After this the foundation preparation will be done.
Also Read: CM unveils three new road infra projects to ease Patna traffic
Superstructure from Science College to Patna College almost complete
Till now, almost entire super structure work has been completed from Science College to Patna College. Now work is going on rapidly in the construction of railing. At the same time, the work of constructing the span from BN College to Kulhariya Complex is going on. Piling work is going on at a very fast pace between the Civil Court and the Dental College. Now preparations are being made to place the pile cap.