Patna: The Capital City of Patna on Friday got three major infrastructure projects opened for traffic by Chief Minister Nitish Kumar. The projects inaugurated today include part of Ganga Path or Ganga Driveway, Phase-2 of Atal Path and Mithapur leg of Mithapur road-over bridge (ROB).
Ganga Path
The first phase of the 7.40km-stretch of the four-lane 20.5km Ganga Path—also known as Ganga Driveway—from Digha to Patna Medical College and Hospital (PMCH) would be set operational from traffic. The stretch will have another opening to Ashok Rajpath via AN Sinha Institute at 5.40km west from Digha.
Officials said that the opening of the Ganga Path stretch would allow people to easy vehicular access to PMCH from North Bihar or AIIMS or even southern areas of Patna. The approach roads to AN Sinha and PMCH's emergency have been readied. Traffic marks and street lights have been installed to help people travel through the space hassle-free even during the night time.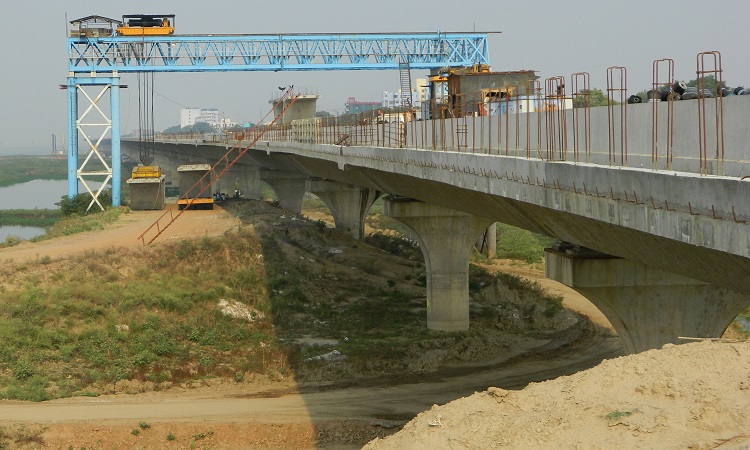 Of the 7.40km long Ganga Driveway, 6.50 km have been built at grade level, while the rest 900 metres stretch of it is on elevated structure. Officials the Bihar State Road Development Corporation (BSRDC), which is executing the project at ₹3,831 crore, said that construction on rest of the project was going on in full swing and the entire project from Digha to Deedarganj in Patna City would become operational for traffic by next year.
Atal Path, Phase-2
The Phase -2 of Atal Path project, which envisages connecting R-block-Digha expressway with Ganga Path and later JP Setu across River Ganga—from Digha to Pahleja—has also been opened for traffic by the CM. The BSRDC has built 1.30km long four-lane approach from Digha-end of Atal Path and connect it with Ganga Patna nd JP Setu through circles.
The opening of Phase-2 of Atal Path would help people reach JP Setu from Southern Patna area via Atal Path or AIIMS-Digha elevated road. The AIIMS-Digha elevated road has also been linked with Atal Path and Ganga Driveway. The CM had opened traffic on Atal Path, built on the land that earlier had railway track connecting Digha with Patna Junction, on January 15, 2021.
Mithapur Leg of ROB
The opening of long-awaited Mithapur leg of Mithapur ROB near Patna GPO would allow easy vehicular access to those willing to cross over to Kankarbagh or Patna By-pass side from Yarpur and Gardanibagh side.
Mithapur ROB has become an important flyover that connects to Budh Marg, Veerchand Patel Path, State Legislature, Karbigahia side of Patna Junction and Atal Path. The flyover will also be linked to the Patna bypass through old Bus stand leg, which is almost ready for the inauguration. Road Construction Department (RCD) officials said that the Mithapur ROB will also have a leg connecting to the upcoming four-lane road project to Mahuli.