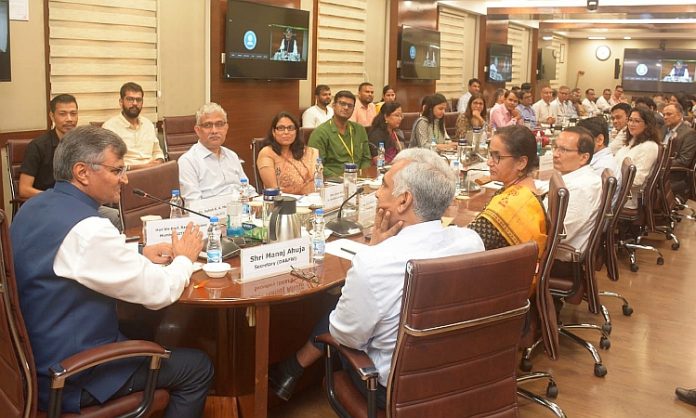 New Delhi: Member of the NITI Aayog Ramesh Chand on Friday launched the Unified Portal for Agricultural Statistics (UPAg Portal- www.upag.gov.in). It is a groundbreaking move to address the complex governance challenges India's agriculture sector is facing. This innovative platform, designed to streamline and enhance data management in the agricultural domain, marks a significant step towards a more efficient and responsive agricultural policy framework.
In his address, Prof Ramesh Chand complimented the team for such an initiative and touted it as an investment and a "giant step" in the realm of agriculture data management. He also mentioned that such initiative was long overdue and it had a great potential to become a "great elephant" from a "small baby". He also urged the audience to introduce a mindset shift in agriculture to being about milestone changes.
Also Read: Lucknow-based NBRI unveils 108-petal lotus variety—Namoh 108
Prof Chand stated that the portal empowers stakeholders with real-time, reliable, and standardized information, paving the way for more responsive and efficient agricultural policies. He also stated that higher the objectivity of data, lower is the scope of judgment in policy making, which translated into stable, transparent and informed decisions. He also mentioned that research suggests that a $1 invested in data generated $32 impact. Prof Chand advised that the portal should ensure data credibility.
Secretary, department of agriculture & farmers' welfare, Manoj Ahuja highlighted the other initiatives currently being undertaken by DA&FW like Krishi Decision Support System, farmer registry, crop survey. He stated that UPAg Portal was being envisaged as a public good wherein users will benefit by reduced search costs and frictions and access to credible, granular and objective data.
Also Read: Green energy to power dedicated agriculture feeders in Bihar
Senior economic and statistical adviser Arun Kumar apprised the audience of the major initiatives currently being undertaken at DA&FW to enhance data accuracy and improve digital data governance in agriculture. Adviser DA&FW Ruchika Gupta shared the salient features of the UPAg Portal. The portal has been developed in a bid to address data related governance challenges in agriculture such as lack of standardized and verified data, making it difficult for policymakers, researchers, and stakeholders to make informed decisions. The UPAg Portal is set to change this landscape with its comprehensive approach to data integration and analysis.
Key Features of UPAg Portal
Data Standardization: The portal standardizes data on prices, production, area, yield, and trade, making it accessible in one location, eliminating the need to compile data from multiple sources.
Data Analysis: UPAg Portal will perform advanced analytics, offering insights such as production trends, trade correlations, and consumption patterns, aiding policymakers in making informed decisions.
Granular Production Estimates: The portal will generate granular production estimates with increased frequency, enhancing the government's ability to respond to agricultural crises swiftly.
Commodity Profile Reports: Commodity profile reports will be produced using algorithms, minimizing subjectivity and providing users with comprehensive insights.
Plug and Play: Users will have the flexibility to use the portal's data to prepare their own reports, promoting data-driven decision-making.
UPAg Portal
The UPAg portal is a crucial component of the Digital Public Infrastructure for Agriculture, aimed at harnessing the diversity of the agriculture sector and using data as a catalyst for growth. It is a pioneering initiative by the Department of Agriculture and Farmers' Welfare, to streamline data management in the agriculture sector. It aims to provide real-time, standardized, and verified data on agricultural commodities, facilitating data-driven decision-making for policymakers, researchers, and stakeholders. This initiative aligns with the principles of e-governance, bringing smartness, transparency, and agility to India's agriculture sector.