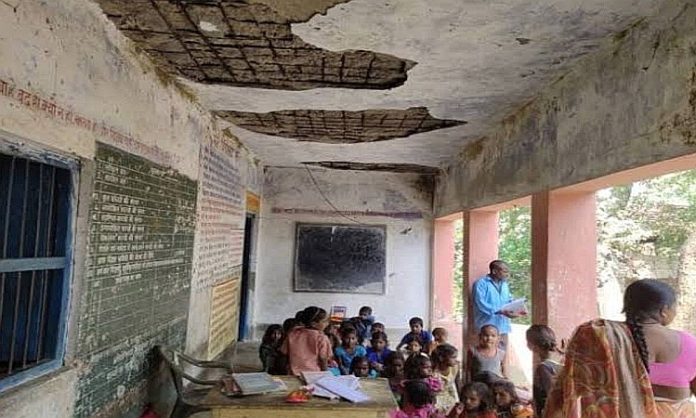 Lucknow: Waking up to the reports of rickety conditions of school buildings, the state education department has decided to conduct the safety and infrastructure audit of over 1.3 lakh state-run schools in Uttar Pradesh. Officials said that the department would prepare a comprehensive plan to strengthen the buildings and arrange other necessary infrastructure in the schools to ensure quality teachings there.
Officials said that the education department has listed as many as 13,698 school buildings, as rickety, which can collapse anytime. Of these, demolition work is in process in 7,100 schools. Basic Shiksha Adhikaris (BSAs) have been asked to mark the range of defects – cracks, seepage, and dampness – for the observation of columns, beams, walls and slabs.
Also Read: Centre orders inquiry in to PM Poshan scheme in West Bengal
A senior officer of the education department said that they had come up with an audit checklist for inspection of school buildings, room-to-room observations along with external areas of the campus and other amenities required to impart high grade teaching to the students, so that they can compete with their counterparts in convent schools.
According to reports, condition of schools are not good either in Aligarh, the home constituency of basic education minister Sandip Singh. Media reports said that primary school number 27 in Vishnupuri has only one room where students of all five classes sit together. The South Asian Human Rights Watch has tweeted a report on the schools.
Also Read: Bihar govt allows opening of new brick-kilns with conditions
Students of a primary school in Jamania of Ghazipur district are forced to reel under the constant threat of the building collapse. Some portion of the roof has already caved in, while other rooms have been shut down after partial collapse of the building.
Director general school education Vijay Kiran Anand has asked all basic education officers to categorise school buildings as very good, good, bad and very bad. The rating will be based on parameters such as boundary wall, floor, brickwork in walls, staircase and ramps, toilets, and fire, electrical and flood safety.
Also Read: Ad for recruiting teachers in Bihar will lead to more court cases
"Besides carrying out reconstruction of dilapidated buildings, we are checking the existing buildings for structural stability by conducting an elaborate school safety audit," Anand told the newspersons.
BSAs have been given a 'Basic School Structure Audit Guidelines for Safety & Usability' comprising four sections – external facade of school building; reinforced cement concrete (RCC) elements, classroom, corridors and other spaces (kitchen, toilet, principal room); staircase and passages; terrace and roof. Each section has various parameters based on which markings will be done.