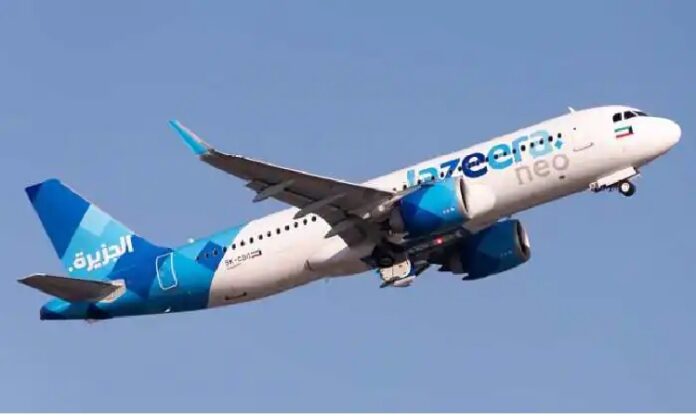 Thiruvananthapuram: Kuwait's Jazeera Airways will connect with two destinations in India, Thiruvananthapuram and Bengaluru this week. While the airline is scheduled to connect Thiruvananthapuram from October 30, it's flight to Bengaluru will start operating from November 2.
To begin with, Jazeera Airways flight will operate from Kuwait to the two destinations twice in a week. The Kuwait Airways already operates 3 days a week service in the same sector.
According to a press communiqué from the airline, the flight departs Thiruvananthapuram on Mondays and Wednesdays at 2.50 am and reaches Kuwait at 5.55 am (Local time).
The flight departs from Kuwait at 6.25 pm and reaches Thiruvananthapuram at 2.05 am. A 320 aircraft with a capacity of 160 passengers will be used for the service. This will be Jazeera's second service to Kerala.
Also Read: Post-Covid, domestic aviation sector in recovery mode
The airline has also scheduled bi-weekly flight to Bengaluru from November 2. It will leave Kuwait on Thursdays and Sundays and depart from Bengaluru early next day.
"We are pleased to be extending our reach into India by the addition of these two new services, catering to the high demand from the expat and business communities in Kuwait and other connecting GCC countries for flights," said Rohit Ramachandran, chief executive officer, Jazeera Airways, on introduction of the new flights to India.
Also Read: Singapore Airlines to introduce spacious flight on Hyderabad route
Jazeera Airways operates commercial and cargo flights out of its Jazeera Terminal T5 at Kuwait International Airport. Currently, the airline flies to 50 popular destinations across the Middle East, Central and South Asia, Africa and Europe comprising high-demand business, leisure and weekend destinations.
With the arrival of budget airline Jazeera, travellers from South Kerala and Tamil Nadu can travel to Kuwait at low cost. Booking for flight service has started.