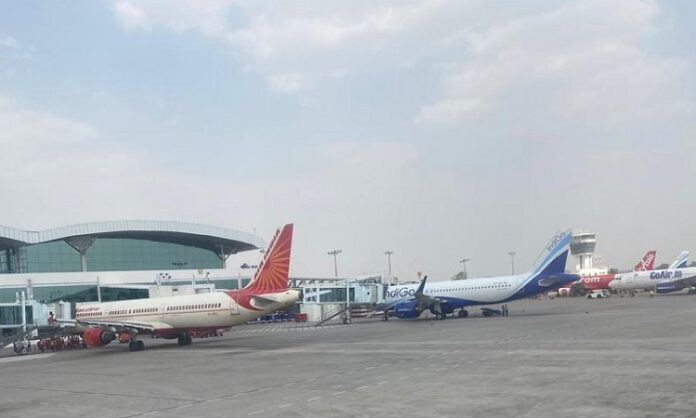 New Delhi: The domestic aviation sector is on recovery mode. The domestic passenger traffic for August 2022 has been recorded to be around 1.02 crore, which is 5% higher as compared to July 2022, which witnessed passengers' traffic of around 97 lakh.
There is 52% in passengers' traffic in August this year vis-a-vis the same corresponding period last year, credit rating agency ICRA Limited stated.
However, the quantum of domestic passenger fell short by 14%, compared to pre-Covid levels i.e. August 2019, a report prepared by Suprio Banerjee, vice president and sector head – corporate ratings, said.
For five months of the current fiscal (April-August 2022), domestic passenger traffic is estimated to be around 524 lakh, a YoY growth of 131%, and lower by 11% compared to April-August 2019, the report said.
Also Read: 'Bihar has tremendous scope to grow on enhanced aviation infra'
The airlines, too, responded to the increase in demand and enhanced 37% capacity deployment in August this year as compared to August last year. However, it is still lower by 10% than the pre-Covid period, it added.
"It is estimated that the domestic aviation industry operated at a passenger load factor (PLF) of 80% in August 2022, against 72% in August 2021 and 85% in August 2019. The international passenger traffic for Indian carriers in August 2022 strongly surpassed the pre-Covid level of 19.8 lakh by 32%," the report said.
Also Read: AAI undertakes ₹381 cr makeover plan for Tuticorin airport
However, steady rise in prices of aviation turbine fuel (ATF) and a general inflationary environment has its visible impact on the earnings of the sector. ATF prices in September 2022 hovered around 83% higher on a YoY basis. "The same declined by 0.7% sequentially. While airlines have been increasing yields, in ICRA's view the same has not been adequate to offset the impact of the rising ATF prices," it added.
Also Read: Costly tickets, lack of facilities hit footfall at Darbhanga airport
The report foresaw a quick recovery in domestic passenger traffic by FY2023, aided by normalcy in operations and a waning pandemic. "However, the earnings recovery for domestic airlines will be slow-paced due to elevated ATF prices in addition to the rupee depreciation against the US$ amid a heightened competitive environment," the credit rating agency asserted.