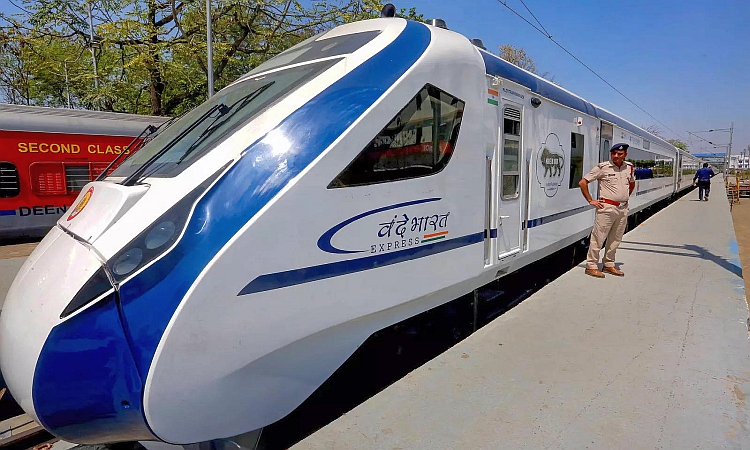 Jaipur: Prime Minister Narendra Modi on Wednesday flagged off Rajasthan's first Vande Bharat Express train. The train will connect the state capital with the national capital and will take about one hour less than the time taken by Shatabdi express on the same route.
An official release of Railway ministry said that it is the "world's first semi-high speed passenger train on high rise overhead electric (OHE) territory."
Also Read: PM flags off 2 Vande Bharat trains, opens Chennai airport terminal
At the launch event which he joined via video conferencing, PM Modi said the Vande Bharat Express enriches the spirit of 'India First, Always First'. "It has become synonymous with development, modernity, self-reliance and stability. The Vande Bharat Express will immensely benefit the tourism industry of Rajasthan," he said. "Fortunate to flag off the sixth Vande Bharat Express in the last two months," Modi added.
He alleged that corruption has affected the modernisation of Indian Railways in the past. "Unfortunately, selfish and mean politics had always overshadowed the modernisation of the railways. Large-scale corruption neither let development happen in the railways nor did it let the railways' selection process be transparent," he said.
Also Read: Vande Bharat express to run between Patna & Ranchi from April 25
Jaipur-Delhi is the 15th in series of Vande Bharat express train launched on Wednesday. The train is making its inaugural journey between Jaipur and Delhi Cantt railway stations. The inauguration was done via video conferencing at 11 am on April 12. The regular plying of the train will start on April 13 (Thursday)./
Aimed at improving connectivity between the tourist spots in Rajasthan, the Vande Bharat Express will operate between Ajmer and Delhi Cantt, with stops at Jaipur, Alwar and Gurgaon. It will connect Delhi to Pushkar and Ajmer Sharif Dargah, among other major tourist destinations.
Also Read: Budget announcement: 2 Vande Bharat train to run in Bihar
As per an official release, the train will complete the Ajmer-Delhi Cantt journey in five hours and 15 minutes, an hour lesser than the time taken by the fastest train on the route currently. The Shatabdi Express plying between Delhi Cantt and Ajmer takes 6 hours and 15 minutes.
Rajasthan gets its first Vande Bharat Express today. This will significantly enhance connectivity and boost tourism. https://t.co/TqiCCHWeV9
— Narendra Modi (@narendramodi) April 12, 2023