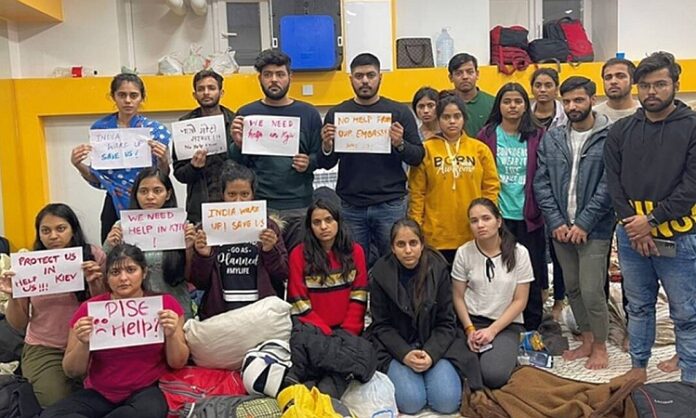 New Delhi: In big relief to thousands of Indian medical students who fled Ukraine in February last year after the Russian invasion, the Ukraine government has decided to allow foreign medical students to take the Unified State Qualification Exam (USQE) in their domicile country.
The ministry of external affairs (MEA) informed that this was mentioned by Ukrainian deputy minister of foreign affairs Emine Dzhaparova, while talking on the issue of Indian medical students during her visit to New Delhi between April 10 to April 12, 2023.
The USQE exam will include an integrated test exam 'KROK, objective structured practical (clinical) exam, and professional English language exam for MBBS students.
On March 28, the Ukrainian government resolved to conduct the exam outside the country as many students studying in Ukrainian colleges, universities were forced to leave the country due to the ongoing war between Russia and Ukraine.
Also Read: Ukraine returned students can't be admitted in Indian varsities: Centre
"Considering that many students undergoing medical education in Ukraine were forced to leave Ukraine and are currently unable to return because of the current security situation and martial law imposed in the country, the Government of Ukraine has adopted a decree on 28 March 2023 'On amendments to the procedure for conducting a Unified State Qualification Exam (USE) for graduates of Master's Degree in Healthcare', which will allow students to take the USQE outside of Ukraine in places of their permanent residence/temporary stay during the period of martial law," said an official statement from the Embassy of India, Kyiv.
Over 20,000 Indians, mostly medical students, were evacuated from Ukraine post the February 24, 2022 invasion by Russia. Most of them had to leave their studies mid-way, affecting their future prospects. With the Ukraine conflict continuing, the Indian students have been at a loss on what to do.
Also Read: Centre okays 265 PG seats for medicos in J&K colleges & hospitals
Dzhaparova also proposed that rebuilding infrastructure in Ukraine could be an opportunity for Indian companies. During the talks, bilateral agenda included – spheres such as economic, defence, humanitarian assistance, and global issues of mutual interest. She briefed secretary (west), MEA, about the prevailing situation in Ukraine. The two sides agreed to hold the next round of Foreign Office Consultations in Kyiv on a mutually convenient date, an official statement said.
"On the issue of Indian medical students, the Deputy FM mentioned that Ukraine will allow foreign medical students to take the Unified State Qualification Exam in their country of domicile," the statement said.
Also Read: Bihar Govt approves new medical college & hospital in Supaul
Dzhaparova also visited the Manohar Parrikar – Institute of Defence Studies, and also delivered a talk at the Indian Council of World Affairs. During her visit, Dzhaparova highlighted Ukraine's desire to build a stronger and closer relationship with India. Dzhaparova's visit to India would facilitate cooperation between the two countries, it added.
Supreme Court yet to decide on admission of medicos from Ukraine
Meanwhile, the expert committee, set up by the Supreme Court on the plea of Indian students studying in the Ukrainian medical universities, is yet to make its recommendations about the scope of allowing their admission in Indian medical colleges. The Central government had rejected their plea on the ground that the law did not permit the such students to be admitted in the Indian medical colleges.
The apex court has set up an expert committee and tasked them to work out feasible solutions to issues so that concerns of thousands of students, who left Ukraine in the mid of their studies, could be addressed.