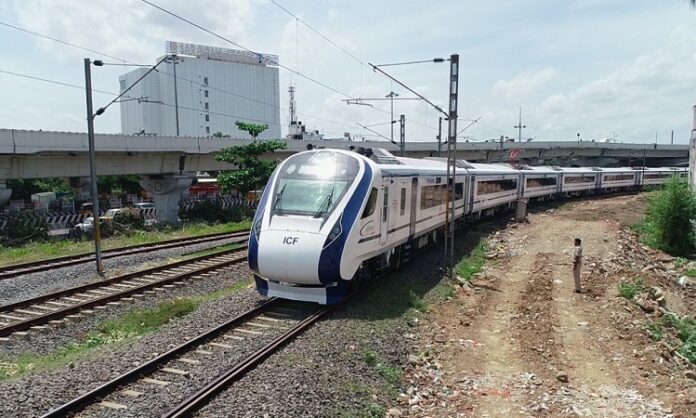 Ranchi: The much-awaited Vande Bharat express train is likely to start running between Ranchi and Patna from the last week of April. The train, fastest on the route, will compete around 400km journey in seven hours.
Officials of the railway ministry said that they had proposed to launch the train on April 25 and the south eastern railways had been asked to complete the formalities at the earliest. The semi high-speed train is scheduled to ply on the new railway line, via BIT Mesra, Barkakana, Hazaribagh, Gaya and Patna.
Also Read: Budget announcement: 2 Vande Bharat train to run in Bihar
The commissioner of railway safety (CRS) has already inspected the tracks and supervised the speed trial last year. Crew members of the loco are being trained, while necessary passengers' amenities on the newly built stations are being arranged on a war footing.
Officials of the SER said that the train will operate six days in a week and will be maintained primarily at Ranchi, while secondary maintenance will be carried out at Patna. The train is scheduled to depart from Ranchi at 7.30am and will reach 3pm. After 30-minutes break, it will depart from return journey from Patna to reach Ranchi at 10.30pm.
Also Read: PM Modi flags off Howrah-NJP Vande Bharat exp, other projects
Currently, there are four trains from Patna and Ranchi. Patna-Ranchi Jan Shatabdi express is the fasted train so far on this route, which takes around 7.30 hours to cover the journey. Officials of the east central railways, however, did not specify the exact schedule for the launch. They said route of one of the four trains might be changed once the new Ranchi Hazaribag line is operationalised.
Officials said that configuration of the bogeys had not been announced yet. However, it's said that most of the coaches would be air conditioned. Vande Bharat train between Patna and Ranchi was announced in the Union Budget.