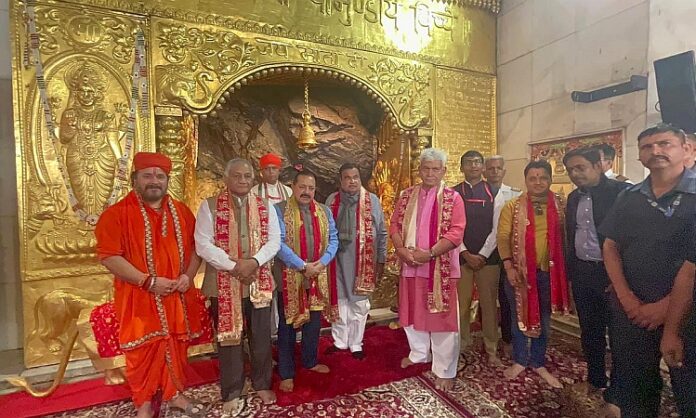 Katra (Jammu): Union minister for road transport and highways Nitin Gadkari on Tuesday said that an inter modal station (IMS) to be established in Katra.
"It will be a world class state of the art project constructed to improve travelling experience of the pilgrims visiting Shri Mata Vaishno Devi shrine," said Gadkari while interacting with media at Shri Mata Vaishno Devi Spiritual Growth Centre, Katra.
Also Read: Gadkari inspects Zojila Tunnel, Asia's longest tunnel in J&K
The MoRTH minister said, developmental works worth ₹1,30,000 crore are being taken up by MoRTH in Jammu & Kashmir and since 2014, around 500 km of road network has been completed in the region. "As many as 41 significant tunnels are being constructed in J&K and Ladakh at a cost of ₹45,000 crore, 18 ropeways worth ₹5,000 crore will be constructed in the UT," Gadkari informed.
The minister also informed that for the journey between Jammu and Srinagar three corridors worth ₹35,000 crores are being constructed, which will reduce the earlier distance of 320 kms by 70 kms and time travel will be reduced from ten hours to four to five hours.
Also Read: Mission Agni: Ladakh Lt Guv lays roadmap to harness green power
The minister also announced that 110 km long Amarnath Marg–leading to the holy Amarnath cave in Pahalgam will be built at a cost of around ₹5300 crore for the convenience of the pilgrims going to Shri Amarnath Shrine. "With the development of state of the art road network across the country through every state and UT, the Kashmir to Kanyakumari will no longer be a dream for the people of India," the minister added.
Union minister for science and technology (Independent charge) Jitendra Singh, who was also present during the media interaction said, the Banihal Ramban highway stretch will become the hub of lavender cultivation giving rise to agri-tech startups.
The others present during the interaction were V K Singh, MoS, MoRTH, lieutenant governor J&K, Manoj Sinha and MoRTH secretary Alka Upadhyay.