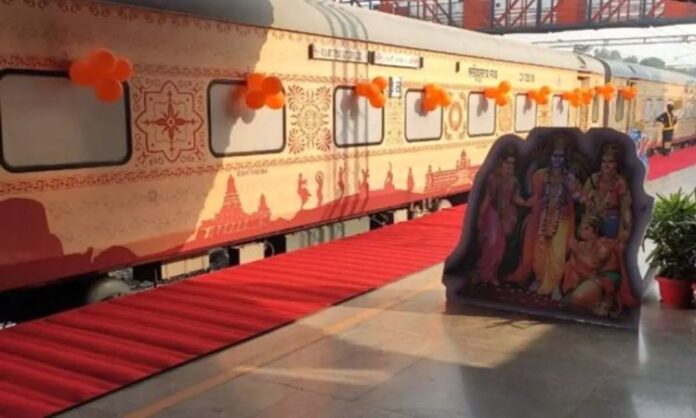 New Delhi: The Indian railway's public sector undertaking (PSU), IRCTC, will launch Bharat Gaurav deluxe AC train, connecting Ayodhya and Janakpur (in Nepal), to let tourists have the glimpse of the country's rich cultural heritage and magnificent places during their weeklong journey.
The train will be flagged off on February 17 from New Delhi and take the tourists of Ayodhya and Janakpur, the capital of erstwhile Mithila region during Ramayana period. Goddess Sita, who married to Lord Rama, was daughter of king Janak, who ruled the Mithila region.
Also Read: PM Modi launches Chennai-Mysuru Vande Bharat exp, 1st in south
Officials of the railway ministry said that the tourism package, which will link the train to Janakpur in Napal destination through bus from Sitamarhi, will boost bilateral ties with the neighbouring Nepal.
The tourist train travel to Nandigram, Sitamarhi, Kashi and Prayagraj as added attractions in the tour. There will be two night stay in the hotels, one each at Janakpur and Varanasi respectively, while the visit of Ayodhya, Sitamarhi and Prayagraj will be covered in the day halt at the destination.
The state of art deluxe AC tourist train has a host of astounding features including two fine dining restaurants, a modern kitchen, shower cubicles in coaches, sensor based washroom functions, foot massager. The fully air-conditioned train provides two types of accommodation viz. 1st AC and 2nd AC. The train has enhanced security features of CCTV cameras and security guards for each coach and also equipped with infotainment system in the entire train.
Also Read: Gaya, 11 other rly stations in ECR to be get world-class facilities
The proposed seven-day Bharat gaurav tourist train tour has its first stop at Ayodhya, the birthplace of Lord Rama, where tourists will visit Shri Ram Janmbhumi temple and Hanuman temple and additionally Bharat Mandir at Nandigram. After Ayodhya, the train will move to Sitamarhi railway station in Bihar and tourist will further proceed to Janakpur in Nepal by buses, which is 70 km away from Sitamarhi station.
During the stay at Janakpur, tourist can visit to Ram Janki Temple, Sita Ram Vivah Mandap and Dhanush Dham. After visiting Janakpur, on the next day tourist will return back to Sitamarhi and visit Janki temple at Sitamarhi and Punaura Dham. From Sitamarhi, train will proceed on overnight journey to Varanasi. While at Kashi, tourists will visit Sarnath, Kashi Vishwanath temple & corridor, Tulsi temple and Sankat mochan Hanuman temple. Tourists will move from Varanasi to Prayagraj by bus and visit Sangam, Shankar Viman Mandapam, Hanuman temple and Bharadwaj Ashram. After Prayagraj, the train will return back to Delhi on the 7th day of its journey. Guests will be travelling roughly 2500 Kms in this tour.
Also Read: BIA seeks industry status to tourism, other incentives in state budget
In order to make this package more attractive and affordable to a large population, IRCTC has tied up with online payment gateways for providing EMI payment option for breaking the total payment in small amount EMIs.
Bharat Gaurav tourist train launch is in line with the Government of India initiative "Dekho Apna Desh" to promote domestic tourism. At a price range starting from ₹39,775/- per person, train will be a seven days, all inclusive tour package and the price will cover train journey in respective class, night stay at AC hotels, all meals (veg only), all transfer & sight-seeing in buses, travel insurance and services of guide etc.
State of the art Bharat Gaurav deluxe AC tourist train with 1st AC & 2nd AC class
The tourist train will start from Delhi on February 17 for 7 days all inclusive tour
Visit of pilgrimage and heritage sites at Ayodhya and Janakpur dham (Nepal) along with Nandigram, Sitamarhi, Varanasi and Prayag will be the major attraction in the itinerary.
Tourist train consists of 4 first AC coaches, 2 second AC Coaches, one well equipped pantry car and two rail restaurants. It can accommodate 156 tourists onboard.
Online payment gateways shell for providing EMI payment option to the customers.