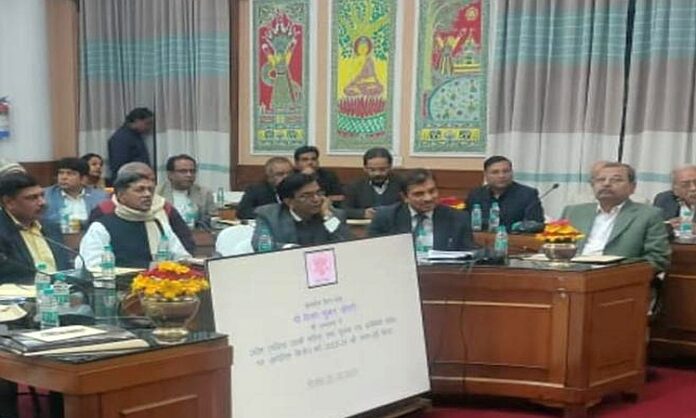 Patna: Industry status to tourism, separate classification of minimum value register (MVR) rates for industrial land and production linked incentive (PLI) schemes for industries are some of the important demands that the Bihar Industries Association (BIA) has put forth during the pre-Budget meeting with the state's finance minister Vijay Kumar Chaudhary on Thursday.
As part of the pre-budget exercise, Chaudhary interacted with the representatives of industries, trade and commerce sectors and sought their suggestions to put the state on the fast-track of development.
Claiming that Bihar continues to suffer from regional disparity, BIA delegates said that per capital annual income of the state is around ₹48,000 against the national average of ₹1,35,000. Likewise, credit-deposit (CD) ratio of the state is around 50% against the national average of 76%, which needs to be addressed urgently.
Asserting that the industries could play a pivotal role in ushering in holistic development in the state, the BIA functionaries led by president Arun Agrawal strongly batted for substantial increase in the budgetary allocation for the industries department. "It should at least be around ₹4,000 crore. Besides, the government should strive for opening new industrial areas and raise infrastructure at the existing industrial areas," BIA delegates said.
Also Read:BIA reaches out to entrepreneurs, brief them on various schemes
Apart from asking for industry status to the tourism sector, the BIA delegates said that local entrepreneurs shall be provided with incentives and long-delayed purchase policy shall be notified at the earliest. "The state government shall also consider framing separate policy to encourage development of tea-based industries in Kishanganj area," a statement from the BIA said.
Also Read: Bihar's purchase policy to promote local industries on anvil: Minister
Separate and reasonable MVR for plots meant for industrial planning area, simplification of urbanisation process, one time exception of minor deviation in building byelaws, allocation of special fund to encourage industrialisation, provision for rebate in electricity duty and PLI scheme to promote newly set-up industries under the industrial promotion schemes are among other demands that the industry body asked for.