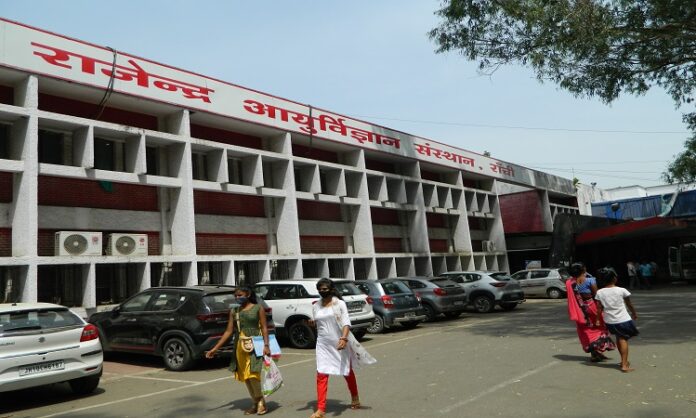 Ranchi: In its bid to regularise attendance of doctors at their places of posting, the Jharkhand health department has directed the principals of all government medical colleges to prepare academic and medical calendar of doctors' activities in the medical colleges and their attached hospitals.
The calendar carrying details of the doctors' activities, both in teaching and hospital service, shall be updated regularly and uploaded on the concerned colleges' websites, said a the letter issued by additional chief secretary, health, Jharkhand, Arun Kumar Singh.
Also Read: Centre asks Jharkhand to follow SoP to curb spread of H5N1 virus
The details of duties carried out by the doctors shall also be submitted to the director, medical education and health services, on monthly basis in specified format, the letter said, adding that monthly report must reach the designated office by 10th of every month. "Those faculty members, who did not attend their duties as assigned, must be taken to task," the letter said.
From numerous complaints, the health department has drawn the conclusion that many doctors skip teaching the students in the colleges and mostly indulge in offering their services in the attached hospitals or do private practice. It was also noticed that many doctors remain absent for hours from the hospitals after punching their biometric attendance and return to the place of working during the visit of senior officers.
Also Read: Jharkhand Govt mulls medical city with 10 hi-tech hospitals
The principals of medical colleges have also been directed to ensure that all doctors, who double as teachers in the colleges, must strictly adhere to the teaching work also attend medical services with utmost sincerity.
There are six government medical colleges, barring the All India Institute of Medical Sciences (AIIMS), Deoghar, which is an autonomous medical institution under the control of the Central government. Rajendra Institute of Medical Sciences (RIMS), Ranchi, Patliputra Medical College and Hospital, Dhanbad, MGM Medical College and hospital, Hazaribagh medical College and Hospital, Hazaribagh, and Dumka Medical College and Hospital, Dumka. They together have 680 seats for MBBS students.
Also Read: Ranchi's Sadar Hospital to become super specialty centre
It also came to the light of the department that academic syllabus of the students, enrolled in the MBBS and post graduate courses remain incomplete, as doctors, assigned the teaching jobs, skip their duties in the colleges on one pretext of the other.
The deputy commissioners and civil surgeons have also been told to ensure compliance of the letter in its true spirit.