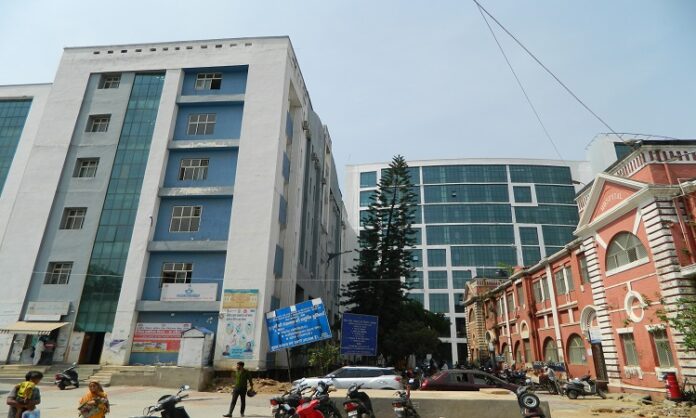 Ranchi: Sadar Hospital, Ranchi, will become another super specialty government hospital after the Rajendra Institute of Medical Sciences (RIMS) in Jharkhand's capital city.
After developing a modern building premises for Sadar Hospital equipped with 500-bed to replace the one constructed in 1930, the State Health Department has ordered to purchase advanced equipment to treat critical patients of kidney, heart, neurology and cancer.
Officials said that the Covid pandemic turned out to be a boon in disguise for Sadar Hospital. With the Central government adopting a generous gesture towards healthcare, the state health department managed to substantially enhance medical infrastructure in Sadar Hospital as well.
95% work of new Sadar Hospital building complete
The staff strength in the Sadar Hospital has also gone up by 15% as compared the pre-Covid era. "Construction of about 95% of the new building has been complete. The construction firm would hand over the premises to the hospital management in the next couple of months," said a senior doctor of Sadar Hospital.
A few departments of Sadar Hospital have started shifting to the new building with consent from the construction firm ahead of the formal inauguration. "Seven modular operation theatre equipped with modern tools are ready. Separate units for central sterilisation supply department, laundry, modular kitchen, centralised oxygen service, firefighting system and suitable electrical fittings are also ready for the opening," said the doctor.
Specialised units of Neuro, cardio, oncology to be opened
Officials of the Health Department said that well-equipped units for neuro, cardiac, oncology, urology and cardiothoracic and vascular surgery (C-TVS) were being ready for operation in Sadar Hospital. They said that the government would start recruiting additional doctors, nurses and other technical staff required to run the 500-bed hospital equipped with all modern equipment.
The state Health Department has proposed to set up advance CT-scan machine, advance pathological gadgets, MRI machine, ultrasound machine, equipment for dialysis unit and laparoscopic machine. "Initially, manpower will be hired on contract, but later their services would be regularised depending up on the financial support," said a senior officer of the department.
RIMS to get rest house for patients' attendants
Attendants of the patients admitted in RIMS would not require taking recourse to costly hotels to look after their ailing relatives. Very soon, the RIMS will open a rest house, built under the corporate social responsibility (CSR) scheme of the Power Grid Corporation, for comfortable stay of the patients' attendants.
A spokesman of the RIMS administration said that 310-bed guest house, which came up near the Ranchi Dental College, will be opened for public soon. The rest house is equipped with a big reception area, waiting hall fitted with television, medicine shop and canteen to offer food on subsidised rates. The patients' attendants are deemed to pay a reasonable refundable security for bedsheets, blankets, etc.