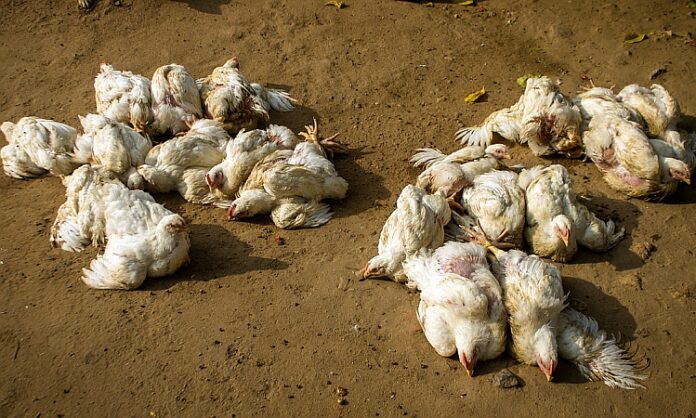 Ranchi/New Delhi: The Jharkhand government has been asked by the Union animal husbandry department to strictly adhere to the standard operating procedure (SOP) to check the spread of avian influenza (H5N1) virus after it was detected in a government-run poultry farm in Bokaro.
Two central team, one from Delhi and another from Kolkata, has rushed to Bokaro on Tuesday, immediately after ICAR-National Institute of High Security Animal Disease, Bhopal, confirmed the samples from chicken received from Bokaro, positive for H5N1 virus. The team has been assisting the state government officials in containment operations against the disease as per the action plan for prevention, control and containment of avian influenza (2021).
The last occurrence of avian influenza was reported in Godda district of Jharkhand during January 2019.
Also Read: Deal signed for commercial production of vaccine for lumpy disease
The Union health ministry has deputed their central team for overview the surveillance in human sector. Secretary, animal husbandry department (AHD), government of India, had telephonic discussion with Aboobacker Siddique P, secretary, animal husbandry department of Jharkhand government regarding appropriate preventive measures and assured all support from the Central government.
Animal husbandry commissioner, government of India, had a discussion with the AHD officials of Jharkhand and West Bengal and advised them to effective control measures so that the disease doesn't spread to other parts.
During the discussions, the Central government officials categorically state that the compensation would be paid to farmers, whose poultry birds, eggs and poultry feed are culled/disposed of by the state as per the action plan. The department of animal husbandry & dairying (DAHD), Government of India, provides funds to the states/UTs on a 50:50 sharing basis under ASCAD component of its LH & DCP Scheme.
The state government has been advised to maintain sufficient stock of PPE kits and other accessories required for culling operations. The state has also been requested to coordinate with the departments of health and forest and sensitise them about avian influenza, and asked to submit daily report to this department on the control measures taken by them.
"Two separate central teams from Delhi and Kolkata also arrived in Bokaro to take stock of the ground situation. The department is doing random sampling in the radius of 10 kilometres in Bokaro to check for any possible spread. However, no other poultry farm has till now reported anything suspicious," said ," said animal husbandry director Chandan Kumar.