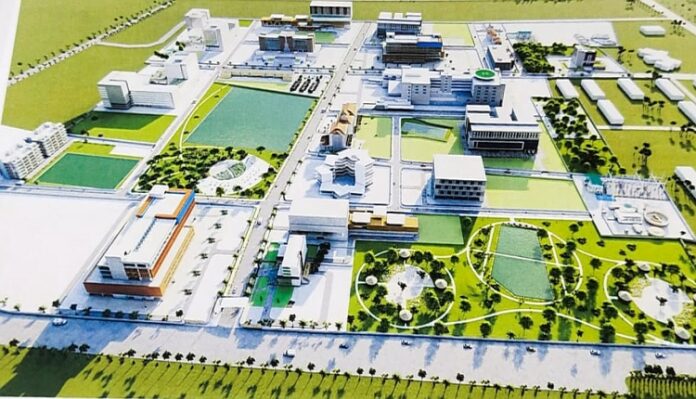 Ranchi: The Jharkhand's health department has mooted a plan to develop a township with hi-tech medical infrastructure and healthcare services in Kanke area of the state capital. Proposed to come up on 76.34 acre land at the cost of ₹2,241 crore, the Medico City, is likely to have at least ten superspeciality hospitals.
Officials of the state health department said that they had got the concept master plan of Medico City ready for getting the chief minister's approval to go ahead. "The concept master plan, prepared by the Ernst and Young Global Limited, envisages developing the area as a medical tourism centre," said a senior officer.
Per capita doctors in Jharkhand miserably low
The department had to moot the proposal to strengthen the medical and healthcare facilities for the people of the state, which badly lacked it, as compared to other states. "Jharkhand has barely 0.18 doctor to attend on the population of 1000, against the national average of 0.98 doctor on the same strength of people. Basic infrastructure of healthcare is such low that patients from Jharkhand have to go to other states for better treatment," said an associate professor of Rajendra Institute of Medical Science (RIMS).
Also Read: Jharkhand appoints 217 Ayush doctors to tone up health facilities
400 docs, 2500 medical staff to be appointed
Officials hoped that the department would start the process of recruiting around 400 specialist doctors and about 2500 clinical and non-clinical staff once the proposal gets through the state cabinet. "As per the concept master plan, the ten superspecialty hospitals would have around 3,300 bed facilities. The development of Medico City would also attract private investment and lead to creation of direct job opportunities for nearly 25,000 trained and non-trained persons," said a senior officer.
Medico City to offer affordable facilities
It's also reliably learnt that many investors of other counties are also keenly watching the developments and are planning to invest a huge sum, which would ultimately benefit the patients to get the facilities at competitive rates. The state health department is planning to provide the world-class treatment facilities at affordable rates, so that patients from other states could come to Medico City instead of going to Delhi, Vellore, Mumbai and take recourse to expensive treatment.
Also Read: Amid Covid resurge in Jharkhand, RIMS starts Genome sequencing
Medico City to help Jharkhand save ₹1,000cr
The concept master plan envisages setting up of superspeciality hospitals for orthopaedic and pain management, child and maternal care, infectious diseases, neurosciences, multi-organ transplant, cancer, hepatobiliary, plastic surgery and cardiac care. "These advanced institutions will help the people of the state save about ₹1,000 annually," said a retired director-in-chief of the health department.