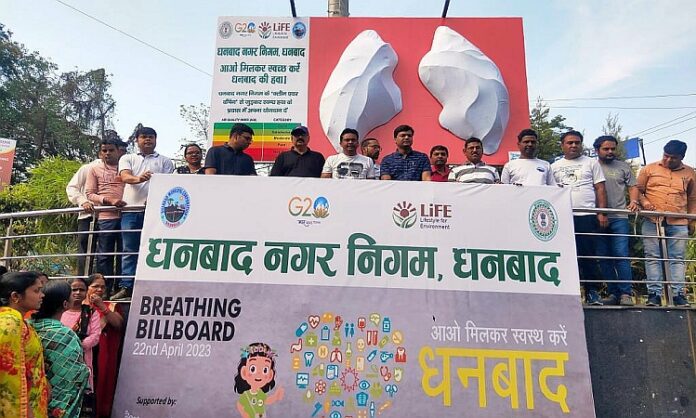 Dhanbad (Jharkhand): On Earth Day, Dhanbad municipal corporation (DMC) in collaboration with Clean Air Jharkhand (CAJ) has installed an interactive art installation consisting of giant-sized faux lungs, a first-of-its-kind initiative, to demonstrate public awareness on air pollution and inspire action.
The installation of artificial lungs billboards also marks the beginning of 'Paryavaran Utsav', a 45-day public engagement campaign of the DMC to ensure public participation and awareness on the issue of air pollution. The campaign will be to create awareness about the issue among schools and college students, communities, citizens, businesses etc. This would also be to motivate them to take the initiative and contribute to the efforts to reduce air pollution in the city. The campaign will end on June 5, the World Environment Day.
The artificial lung billboard is designed uniquely to depict the human lungs, retrofitted with Hepa filters and a fan that mimics breathing, to visually demonstrate the impact of air pollution. It is also fitted with a digital air quality monitor that will record and display the real-time air quality index (AQI). At the beginning of the installation, the color of the lungs is kept white (symbolising healthy lungs) which over a period of a few days will lead to changing colour from grey to brown to black signifying the health impacts of air pollution.
Also Read: High-level team of officials visits Rajmahal hills to curb air pollution
Inaugurating the giant lung billboard, DMC commissioner Satyendra Kumar said, "We are committed to ensuring clean air in the city and are taking a proactive approach in adopting innovative clean solutions to reduce the pollution load. And as we give importance to citizen's participation in various civic matters, similarly public participation and awareness are necessary and important to generate momentum on the issue of air pollution, with this thought we announce the 45 days campaign 'Paryavaran Utsav'. The main objective is to solicit conscious efforts from citizens and organisations for curbing air pollution in the city. Through the campaign, we will engage with communities to identify concerns and solutions for air quality control and a broader understanding of air quality issues.
As part of Paryavaran Utsav, the DMC and Clean Air Jharkhand will undertake a series of public engagement and sensitization activities involving various stakeholders – civil society organizations, school children, youth and women groups – to spread awareness and enhance collaborative efforts in the coming days. A Star Citizen Competition was also announced to showcase and reward the efforts of individuals and the community to make the city pollution free as part of the Paryavaran Utsav.
Also Read: Lohardaga, Bokaro mothers join hands to curb kitchen air pollution
Elaborating the broader intent behind the billboard, assistant municipal commissioner, DMC, Prakash Kumar said, "Air pollution is creating a health crisis though a large section of people are still not aware how vehicular emissions, construction and road dust and pollutants affect our health. The installation will bring focus on the health impacts of air pollution and solicit people's efforts to minimize it.
Clean air walk was also organized from DMC office to City Center in which 100 people participated and also 200 saplings were distributed to the public with the message of saving our earth. The event was attended by officials of DMC, representatives of civil society organizations, and citizen groups across the city.