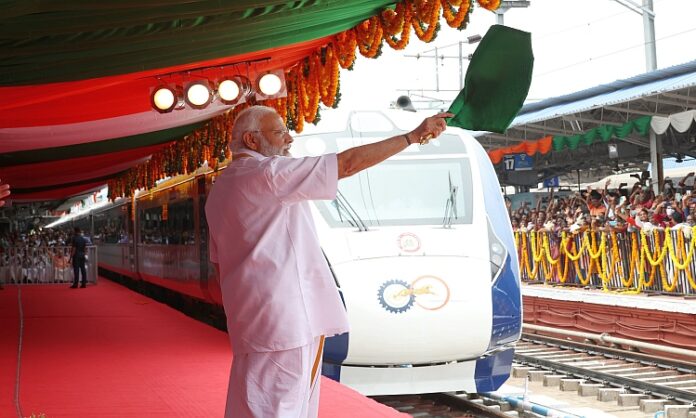 Thiruvananthapuram: Prime Minister Narendra Modi flagged off Kerala's first Vande Bharat Express at ceremonial function held at Thiruvananthpuram Central station on Tuesday. It is the 16th Vande Bharat express inaugurated to run in the country. The train will run between Thiruvananthapuram and Kasargod and pass through 11 districts of Kerala.
Officials of the Indian Railways said that the train will have stoppages at Kollam, Kottayam, Ernakulam Town, Thrissur, Shoranur Jn, Kozhikode, Kannur and Kasaragod.
Advertisement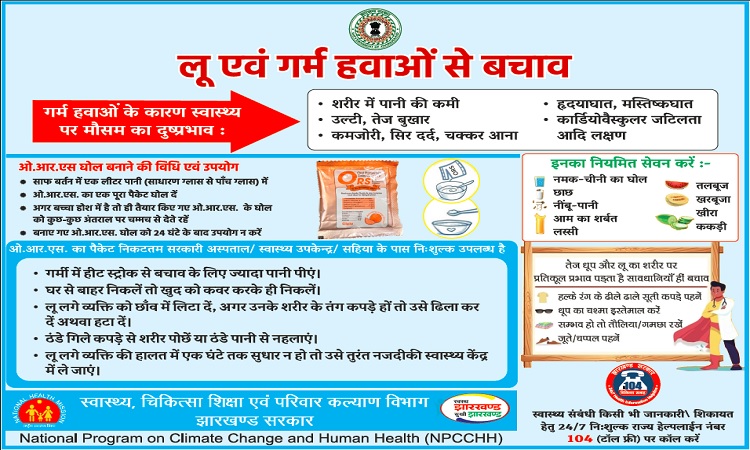 Upon arriving at the venue, the PM inspected the Thiruvananthapuram-Kasargod Vande Bharat Express and also interacted with children as well as with the train's crew. Later he tweeted: "Flagged off Kerala's first Vande Bharat Express, which will enhance connectivity from Thiruvananthapuram to Kasaragod."
Also Read: Russian firm gets order to make sleeper version of Vande Bharat
Numbered 20633/20634, the train will run six days in a week, except Thursday. As scheduled, it will leave Kasaragod at 14.30 hrs on and from 26th April and reach Thiruvananthapuram Central at 22.35 hrs, the same day. In return direction Train No. 20634 will leave Thiruvananthapuram Central at 05.20 hrs on and from 28t April, 2023 and reach Kasaragod at 13.25 hrs, the same day.
According to the schedule drawn up for the newest Vande Bharat Express, it will cover the distance between Kasaragod and Thiruvananthapuram Central in 8 hours and 05 minutes, which is fastest than the Rajdhani Express which takes around 10 hours and 45 minutes.
Fare of Kasaragod–Thiruvananthapuram–Kasaragod Vande Bharat Express
The fare of Vande Bharat Express ( Train No- 20633) between Kasaragod to Thiruvananthapuram Central will be ₹1520 in chair car, which includes ₹308 as catering charges and ₹2815 in the executive class, which includes ₹369 as catering charges. However, food choice is optional in this train and if passenger opted for 'no food option' then catering charge will not be added in fare.
Also Read: Jaipur-Delhi Cantt Vande Bharat Express goes on inaugural run
The fare on Train No- 20634 Vande Bharat Express from Thiruvananthapuram Central to Kasaragod will be ₹1590 in chair car and includes ₹379 as catering charges and ₹2880 in executive class, which will also include ₹434 as catering charge.
Timing and stoppages
The timings and stoppages of Train No. 20633/20634 Kasaragod – Thiruvananthapuram Central – Kasaragod Vande Bharat Express (except Thursdays) are as follows:
| | | | | |
| --- | --- | --- | --- | --- |
| 05.20 | (d) | Thiruvananthapuram Central | (a) | 22.35 |
| 06.07/06.09 | (a/d) | Kollam | (a/d) | 21.18/21.20 |
| 07.25/07.27 | (a/d) | Kottayam | (a/d) | 20.00/20.02 |
| 08.17/08.20 | (a/d) | Ernakulam Town | (a/d) | 19.05/19.08 |
| 09.22/09.24 | (a/d) | Thrissur | (a/d) | 18.03/18.05 |
| 10.02/10.04 | (a/d) | ShoranurJn | (a/d) | 17.28/17.30 |
| 11.03/11.05 | (a/d) | Kozhikode | (a/d) | 16.28/16.30 |