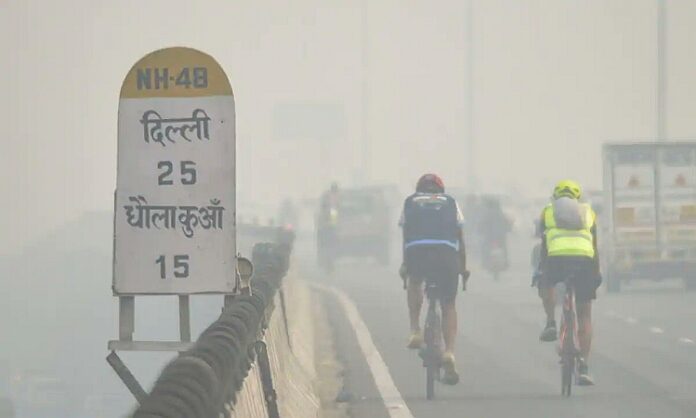 New Delhi: In view of the significant deterioration in air quality of Delhi-NCR in last 24 hours, the sub-committee of the commission for air quality management for the New Capital Region and adjoining areas (CAQM) has invoked actions under envisaged under stage-III of the graded response action plan (GRAP) with immediate effect in the region.
The CAQM resorted to higher level of control after Delhi's overall air quality index (AQI) crossed the 407 mark today at 4pm, which is likely to be a localized influence, officials said.
The CAQM comprehensively reviewed the ongoing restrictive/ preventive actions implemented under stage I and stage II of the GRAP along with the impact of revocation of actions under stage III on the overall air quality of the Delhi-NCR since November 14. While meticulously reviewing the overall air quality parameters, the sub-committee during the meeting this evening noted that due to sudden unfavorable meteorological conditions, it is considered necessary to re-implement stage III of GRAP with immediate effect in the entire NCR as a pre-emptive measure to prevent further deterioration of air quality in the region.
As per the dynamic model and weather/ meteorological forecast, this sudden spike is possibly due to localized factors therefore in an effort to steer clear of further deterioration of air quality and to maintain the AQI of Delhi, the call to re-invoke all actions as envisaged under Stage III of the GRAP – 'Severe' Air Quality (DELHI AQI ranging between 401–450) has been taken by the sub-committee. This is in addition to the preventive/ restrictive actions mentioned in stage I and stage II of the GRAP.
Also Read: Very poor air envelops Delhi, NCR, as stubble burning continues
Accordingly, the authorities have intensified frequency of mechanised/ vacuum-based sweeping of roads. An intensive drive has been launched for water sprinkling along with use of dust suppressants, before peak traffic hours, on roads and right of ways including hotspots, heavy traffic corridors and proper disposal of the collected dust in designated sites/ landfills. Public transport system has also been intensified to discourage peak-hour travel by individual vehicles. Differential rates has been introduced to encourage off-peak travel.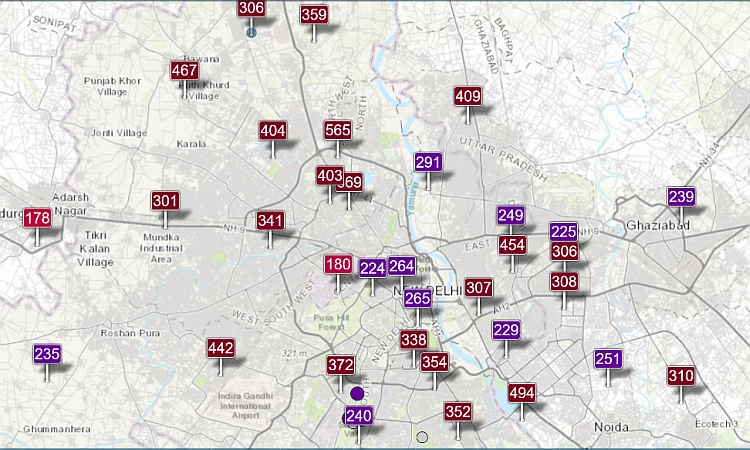 All sorts of construction and demolition activities have been banned in the entire NCR. Constructions on important projects relating to the railways, metro, airports, inter-state bus terminals, national security and defence, hospital and health care facilities, roads and highways, etc, have been exempted from the ban. Sanitation projects like sewage treatment plants and water supply projects and ancillary activities specific to and supplementing above categories of projects have been kept off from the ban.
Also Read: After Delhi, toxic air grips Bihar; Bettiah's AQI worsens to 633
Officials said that earthwork for excavation and filling including boring & drilling works, all structural construction works including fabrication and welding operations, demolition works, loading & unloading of construction materials anywhere within or outside the project sites, transfer of raw materials either manually or through conveyor belts, including fly ash, movement of vehicles on unpaved roads, operation of batching plant, laying of sewer line, waterline, drainage work and electric cabling by open trench system, ctting and fixing of tiles, stones and other flooring materials, grinding activities, piling work, water proofing work, road construction/ repair works including paving of sidewalks / pathways and central verges, etc, have restrained for the time being.
However, all construction projects in NCR, non-polluting / non-dust generating activities such as plumbing works, interior decoration, electrical works and carpentry related works shall be permitted to be continued.
Instructions have been issued to regulate operations of such industries not using any of the fuels as per the standard list of approved fuels for NCR, to operate only for maximum 5 days a week as under till the end of this month. Paper and pulp processing, distilleries and captive thermal power plants – to remain inoperative on Saturdays and Sundays. Paddy / rice processing units – to remain inoperative on Mondays and Tuesdays. Textile/ garments and apparels including dyeing processes – to remain inoperative on Wednesdays and Thursdays. Other industries not falling in the above noted categories – to remain inoperative on Fridays and Saturdays.
Moreover, the commission also appealed to the citizens of NCR to cooperate in implementing GRAP and follow the steps mentioned in the citizen charter under GRAP.