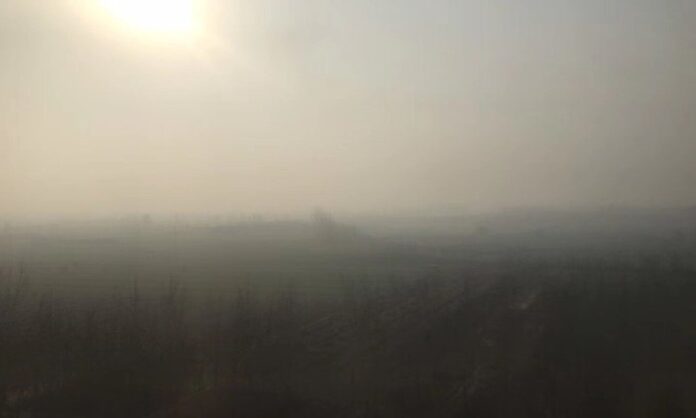 Patna: After Delhi, the air quality of Bihar has now turned toxic, even without the complaints of stubble burning.
On Friday night, at least four cities of the state, such as Bettiah, Siwan, Buxar and Saharsa, were enveloped by the worst kind of ambient air, which, as per the central pollution control board (CPCB), can be categorised as 'severe'.
As per the statistics of realtime monitoring by the Bihar state pollution control board (BSPCB), air quality index (AQI) of Bettiah was found to be alarmingly high at 633, Siwan 427, Saharsa 422 and Buxar's air quality was 406 at 10-11pm.
Buxar, the western most district of Bihar bordering Uttar Pradesh, is playing host to an international religious congregation, where lakhs of people from across the country and abroad are participating. The event will continue till November 15.
Also Read: 'Very poor' air envelops Delhi & NCR, as stubble burning continues
Besides the four worst hit cities, AQIs of other three cities like Motihari (391), Purnia (352) and Katihar (345) were found to be in the 'very poor' category. AQI of the rest cities hovered between 'poor' to 'unhealthy' classes.
As per the CPCB classification, AQI of zero to 50 is considered 'good', 51-100 as 'satisfactory', 101-200 as 'moderate', 201-300 as 'poor', 301-400 as 'very poor' and above 401 as 'severe', which is also known as hazardous.
Also Read: Bihar to launch air quality forecast soon: BSPCB chief
Experts say ambient air of 'severe' quality affects even healthy people and seriously impacts those with existing diseases. People complaints of breathing problems, etching in eyes, etc, due to prolonged exposer to hazardous air.
Comparatively, Patnaites had better air to breath in with AQI hovering between 172 to 215, which can be tagged as 'poor'. Other towns as Biharsharif, Munger and Hajipur, also experienced 'poor' quality air.
Also Read: Patna witnesses 'cleanest' AQI post Diwali in last 5yrs
BSPCB chairman Ashok Ghosh attributed the dip in AQI to the state's geographical location, climatic conditions and low wind speed. "Northern and Gangetic plains have alluvial soil, the particles of which easily get mixed up with air as temperature goes and remain suspended for a longer period, thereby worsening the AQI around," added Ghosh.
Most cities of the state have been experiencing 'poor', very poor and sever quality of the ambient air for the past couple of days. AQI of cities namely Bettiah, Darbhanga, Samastipur, Saharsa, Purnea, and Katihar were recorded as very poor on Thursday also.