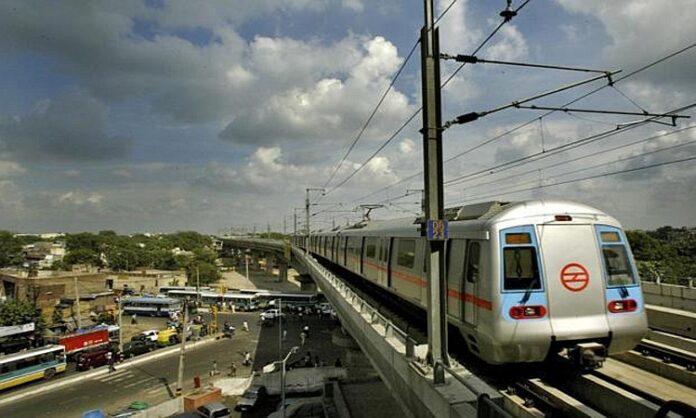 New Delhi: Commuters of Delhi Metro will now have the facility of buying QR code-based paper tickets for travel on all its lines, said the Delhi Metro Rail Corporation (DMRC) on Monday.
The new ticketing system is being seen as transition from manual to automated and transparent mechanism to ease the journey. The DMRC said it will gradually phase out the concept of physical tokens.
Currently, the commuters will be able to buy a OR code-based paper ticket from the station counter, in addition to physical form of token. The automatic fare collection (AFC) gates are being upgraded support both ticketing systems," a senior official said.
Also Read: Bangalore metro to launch QR-based ticketing system next month
Initially, two AFC gates, one each for entry and exit, were upgraded at all stations for travel by OR-based paper tickets. "The concept of issuing tokens will be gradually phased out with the introduction of these more transparent and human intervention-free and cashless mechanisms thereby facilitating more convenient, seamless, time saving and error fee travel for its passengers," it said in a statement.
Officials said that the DMRC has proposed to introduce mobile-based OR tickets across all stations in Delhi metro region by May-end to make travel more seamless, easy, and time-saving, eliminating the need for queuing up for tickets at stations counters. "It has also targeted to make the AFC gates across the network OR code-compliant by the end of June this year along with upgrading the ticket vending machines for dispensing OR-based paper tickets," said an official.
Also Read: Delhi Metro restricts trains' movement on airport line for repair
Delhi Metro, which began its operations in December 2002 with a corridor of just 8.2 km spanning six stations on the Red Line, has grow into a network of 391 km with 286 stations.
DMRC is the 2nd metro rail after Namma Metro  in Bengaluru to have introduced the mobile-based OR tickets. Currently, the mobile QR based ticking system is available only at Airport Express line of Delhi Metro.
As the new system getting introduced, the passengers will only be able to enter from the station where the OR ticket (non-refundable) has been issued and not from any other station. However, in case of failure in revenue services, refund of OR-based paper ticket will be ensured. "Passengers will be allowed to enter the metro system within 60 minutes from the time of the issuance of such a ticket. If a passenger fails to enter the system through the ticket within 60 minutes, the ticket will turn invalid," the official clarified.
Also Read: Kolkata metro rail conducts successful trial of underwater tunnel
To begin with, a OR-based paper ticket will only allow one to travel between two specific stations. If the passenger wants to exit from any intermediate station, that is, before the destination station, the AFC gates will not open with the ticket. "In such a case, a free exit ticket will be issued to the passenger and the old OR-based paper ticket will be retained by the customer care operator," the official added.
Any photographic image (taken on a mobile phone) or copy of a OR-based paper ticket will not be considered valid, and passengers with such an image or copy of it, will be treated as "without a valid ticket" and be dealt with according to DMRC rules, officials said.