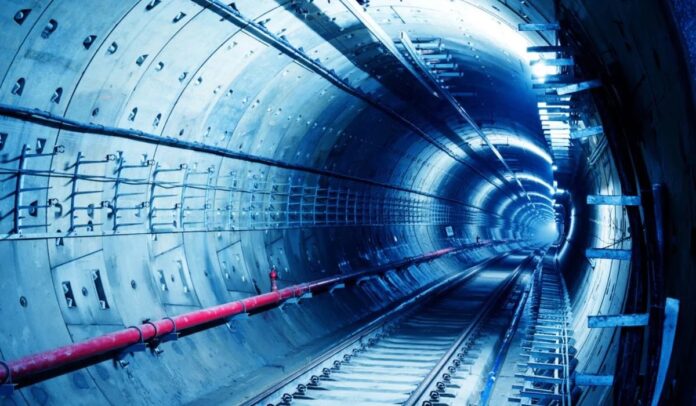 Kolkata: The Kolkata metro has run the first underwater train in the country beneath bed of Hooghly river on Wednesday. The metro rail ran from Kolkata to Howrah. Metro rail general manager P Uday Kumar Reddy travelled the underwater rail from Mahakaran to Howrah Maidan. The train crossed the Hooghly river at 11.55 pm. On reaching Howrah, the train was worshipped in traditional way.
The underwater metro train that has been tested in Kolkata that connects Esplanade on the eastern bank of the Hooghly river and Howrah Maidan on the western bank. Howrah Metro station is 33 meters below the ground and is the deepest metro station in the country.
Track is built in a 520-metre twin tunnel under Hooghly river
Built in a 520-metre twin tunnel under the Hooghly river, the track of the underwater train is 4.8 km long. The tunnel has been built at cost of ₹120 crore. The works on it was going on for the past one year. The Kolkata Metro Rail Corporation (KMRC) is waiting for the completion of the 2.5 km track between Sialdah and Esplanade, before regular commercial run of metro rail on this stretch.
Also Read: Patna Metro to become operational by 2026-27, 2nd TBM launched
Trial run conducted with six coaches
KMRC officials have informed that two trains will run on trial from metro rail's Salt Lake depot to Esplanade via east bound tunnel between Esplanade and Sialdah, with six coaches at present. Reddy said the trial would be conducted over the next few months.
Battery powered engine will run underwater stretch
The trains from Sialdah to Esplanade will be powered by battery engines, as the track underwater tunnel has not been electrified. The KMRC has said that trains will start running regularly in the next few months. India will also join the list of countries where metro trains run underwater.
Kolkata was the first metro rail in the country
The country's first metro service was launched in 1984 in Kolkata. The second metro was launched in Delhi in 2002. Now many cities have started metro service.
Also Read: 6 Namma metro stations' names changed ahead launch of new line
Metro will follow the lines of London and Paris
India's first underwater metro train is being operated on the lines of those being run in London and Paris. The underwater metro is being compared to London's Eurostar, which connects London and Paris with an underwater rail link.
Kolkata Metro creates History!For the first time in India,a Metro rake ran under any river today!Regular trial runs from #HowrahMaidan to #Esplanade will start very soon. Shri P Uday Kumar Reddy,General Manager has described this run as a historic moment for the city of #Kolkata. pic.twitter.com/sA4Kqdvf0v

— Metro Rail Kolkata (@metrorailwaykol) April 12, 2023