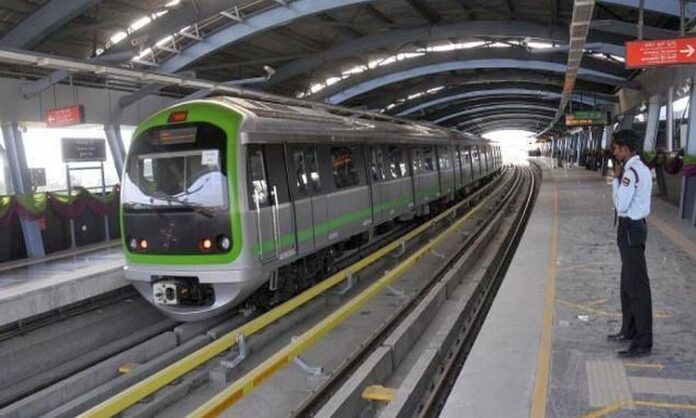 Bengaluru: Bangalore Metro Rail Corporation Limited (BMRCL) is all set  to introduce a QR-code based ticketing system which will allow commuters to buy tickets through the 'Namma Metro' mobile application. The officials say that the new system will be in place by the first week of October.
The commuters can buy tickets by selecting the origin, destination, and number of passengers in the mobile application. The major intent behind the introduction of this system is to avoid long queues for purchasing tickets at the metro stations.
Speaking to KhabarInfra, BMRCL managing director Anjum Parwez said: "Passengers can buy tickets from the mobile app by selecting the origin and destination. Once they receive the QR code, they can place it before the QR-enabled automatic fare collection (AFC) gates at the station to gain access to the platform. It is being done to reduce the queues at the ticket counters and for a hassle-free experience. The tokens and smartcard system will also be operational along with the QR code tickets."
According to the BMRCL officials, the QR code ticketing system is being planned to reduce social contact, especially with regard to passengers who travel without a smartcard.
Also Read: Bengaluru, Varanasi airports to start FRT for hassle-free boarding from Aug
"The BMRCL had plans of introducing this system during the pandemic because social distancing was a norm. However, it took us time to finally culminate the idea into action and it will be launched next month. We had invited bids from companies to implement the online system. Initially the corporation called for a tender to develop the software and now it is almost done. Though people are not much bothered about the pandemic now, the new system is an eco-friendly move as it will reduce the use of plastic tokens and smartcards," a BMRCL official said.
According to the plan, one or two gates in each station will have the new system to facilitate the QR code system as well as the open loop common mobility card. "The work has begun and is on trial run and by October first week this new system will be opened for the public" he added.
Also Read: After Bengaluru deluge, people count losses
It is also claimed that advanced NCMC (National Common Mobility Card) and QR-code-compliant AFC gates have been installed at the new Phase two Metro stations from the start unlike the old AFC gates at Phase one Metro stations.