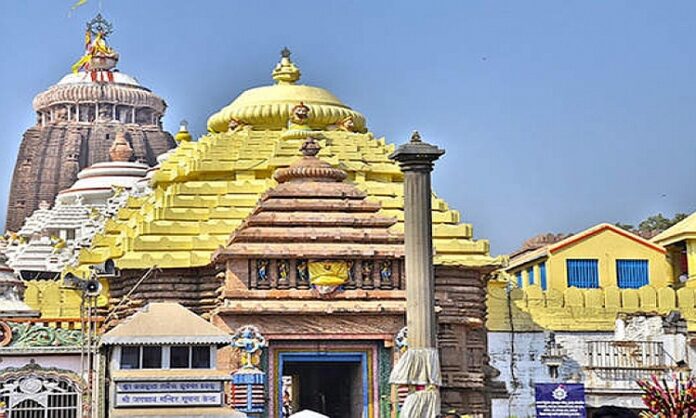 Puri: Cracks in the pillar and capital beams bearing the load of the huge roof of Nata Mandap of Sri Jagannath temple were noticed during inspection by an expert team, said Bhubaneswar circle superintendent of the Archaeological Survey of India (ASI) Arun Mullick on Monday. He said that the structure needed immediate repair.
A high level technical team of ASI along with the high court appointed amicus curiae inspected the damaged portion of Nata Mandap of Sri Jagannath temple on Sunday. The team pointed out that though the damages came to light before 2018 no repair was conducted by the ASI, which is in charge of conservation of the shrine.
The Orissa high court while hearing a plea over ASI neglect to repair the Sri Jagannath temple had appointed N K Mohanty as amicus curiae, who had visited the temple and submitted a report about the need for urgent repairs. The court had directed the ASI to conduct necessary repairs.
However, the expert team decided to use state of the art gadgets to calculate the load on each pillar and beam by using load meters. The advice of the Central building research centre (CBRC), Roorkee, will be consulted, sources said.
Crack meter installed in 2018 on the damaged portion to record the condition of the cracks reflects that it has not widened so far. Mullick said a detailed plan to carry out repairs of Nata Mandap and Jagmohan of 12th century Sri Jagannath temple is being prepared by experts from Delhi, Chennai and Baroda.
Also Read: Bihar Tourism launches app to help devotees on Deoghar's Kanwar Yatra
The report, he said, is expected soon and after its approval by the core committee, repair work would be undertaken. IIT Kharagpur has been entrusted to study water seepage at joints of Nata Mandap and Jagamohan and prepare a status report. The report after approval by the core committee will be sent to the director general (DG), ASI, for allocation of funds.
The expert team was led by additional DG of ASI J Sharma, senior scientist of IIT, Chennai, Arun Menon of Chennai, superintendent of ASI, Bhubanewswar circle, Mullick besides the temple administrator.
Amicus curiae N K Mohanty after discussion with the expert team told media persons that within a month the report will be submitted to the high court and repairs will be completed within a year. "However, ASI has began installing scaffolding at the Nata Mandap of the temple," he said.
(With arrangement from Insightonlinenews)