Chennai: A Chennai based space-tech startup, Agnikul, has set up the country's first-ever private launchpad at Sriharikota. The facility, inaugurated by chairman of Indian Space Research Organisation (ISRO) S Somanath, will be operated by a private player in space technology.
"The first exclusive launch pad for a private launch vehicle has come up at the Satish Dhawan Space Center (SDSC). Now India can travel to space from one more space platform. Thanks to Agnikul," said Somanath.
The facility has been designed and implemented by Agnikul Cosmos with support from ISRO and IN-SPACe (Indian National Space Promotion and Authorization Center). It has two sections, the Agnikul launchpad (ALP) and the Agnikul mission control center (AMCC), separated by 4km distance. However, all critical system have been connected for smooth operation during the countdown.
Officials of the ISRO said that launchpad has been designed in keeping with the necessity to support liquid stage controlled launches and as per the requirements of ISRO's team to monitor monitor key flight safety parameters during the launches. The Agnikul launchpad will also share data and other critical information with ISRO's mission control center on realtime basis.
Also Read: Skyroot creates history, becomes 1st pvt India firm to launch rocket
Srinath Ravichandran, co-founder & CEO, Agnikul said, "The ability to launch from our own launchpad while still working with ISRO's launch operations teams is a privilege that we have been granted by ISRO & IN-SPACe."
Moin SPM, co-founder, Agnikul said, "The new reforms that have been brought in by the Department of Space truly accommodate everyone's dream of going to space."
1st launch to be technology demonstrator
Although, Agnikul has not announced its maiden mission, it is said to be a controlled and guided mission with a vertical launch for technology demonstrator. It's patented engine will be used and the orbital launch would be tried at a reduced scale. Agnibaan and Agnilet vehicles will be used in the first launch, officials said.
Also Read: After OneWeb launch, ISRO eyes solar & lunar missions next year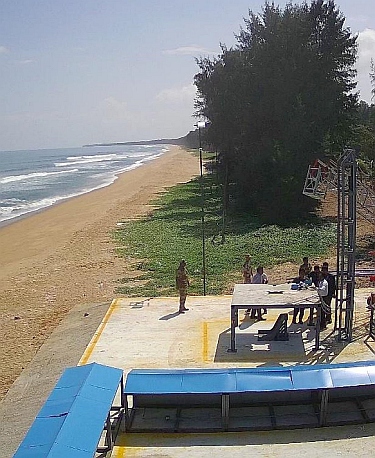 Agnibaan is Agnikul's highly customizable, two-stage launch vehicle, capable of taking up to 100 kg payload to orbits around 700 km high (low Earth orbits) and enables plug-and-play configuration.
Agnilet is the world's first single-piece 3-D printed engine fully designed and manufactured in India and was successfully test-fired in early 2021, making Agnikul the first company in the country to test its engines at ISRO. Agnibaan and Agnilet will be used in the Agnikul's first launch.
Agnikul is IIT-Madras incubated startup
Founded in 2017 by Srinath Ravichandran, Moin SPM and Professor SR Chakravarthy from IIT Madras, Agnikul is an IIT Madras incubated startup. It became the first Indian company to sign an agreement with ISRO in December 2020, which enable the company to access to the Indian space agency's expertise and facilities to build Agnibaan and its launchpads.
Also Read: Skyroot defers maiden launch of its spacecraft due to bad weather
The Central government had launched the IN-SPACe initiated in June 2020 to encourage private sector to enter the space sector. It acts as a single-window, independent, nodal agency which functions as an autonomous agency in department of space.