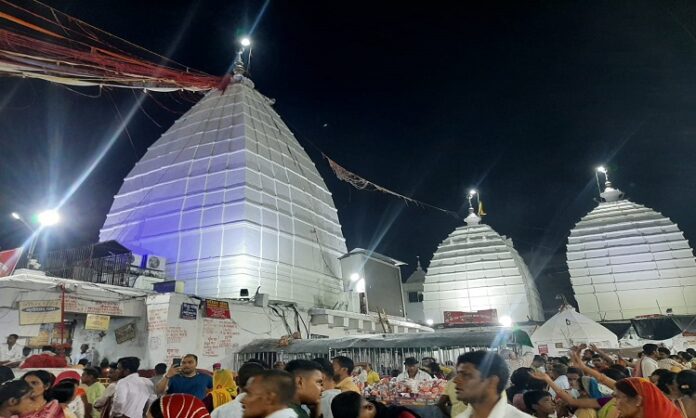 Patna: Trekking the 105-km stretch from Sultanganj to Deoghar with devotional chant of 'Bol Bam' reverberating all through the route has been made easier this Shravani Mela, beginning on July 14 after a two-year break due to Covid.
The Bihar's Tourism Department has come out with a mobile app, Kanwar Yatra, which has every detail of the amenities that those on the arduous walk with Gangajal from Sultanganj to do jalabhishek of Lord Shiva's Jyotirlingam at Deoghar may require.
The mobile app, available for download from the Google Playstore, will be launched by Bihar Tourism Minister Narayan Prasad at a function to be held in Patna on Wednesday. The app will have history of Shravani Mela of Deoghar and legends about Kanwar Yatra, beside the route map along with details important places on the way.
The app has 14 segments, which would help the devotees spot the control rooms of various departments, arrangements for stay, link to the nearby police camp, health camp, toilets and washrooms, sources of potable water, gallery containing pics and videos of the devotional journey, links to assistance centres, complaint window, daily report and location and time of the cultural events being organised on the route.
The Bihar Government is leaving no stone unturned to make the Kanwar Yatra enjoyable for the devotees after the pandemic break. Road Construction Department (RCD) has built kaccha road filled with fine sand on 83-km track, which falls under Bihar's jurisdiction, so that the Kanwarias don't find it difficult to walk. RCD Minister Nitin Nabin recently inspected the Kanwaria path, which has been built at the cost of around ₹7 crore.
Officials said that around 70000-80000 devotees undertake Kanwar Yatra every day from Sultanganj in Bhagalpur, which rise to over 1 lakh on Monday, the day considered the most auspicious for Lord Shiva.
Also Read: PM to open/launch work on ₹16,000cr projects in Deoghar, Patna on Jul 12
The Jharkhand Government has also refurbished the facilities on the rest of track and around the famous Baba Baidyanath temple at Deoghar and Baba Basuki Nath. Tourist facilities have been enhanced substantially in keeping with likely rush of devotees this year.
Jharkhand Chief Minister Hemant Soren and Chief Secretary Sukhdev Singh have visited the town and supervised the preparations to welcome the devotees. Prime Minister Narendra Modi also visited Deoghar and launched commercial operation of Deoghar International Airport on Tuesday.