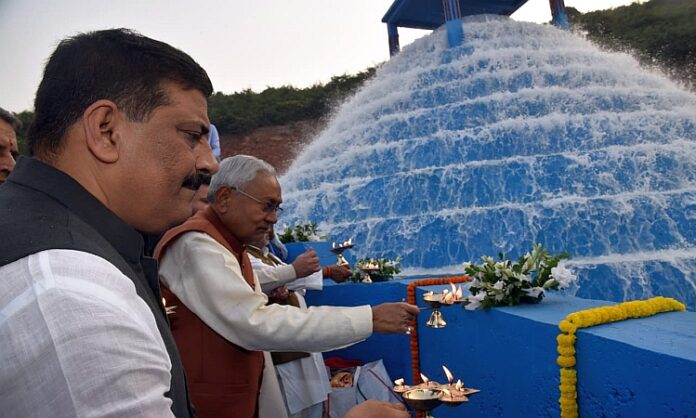 Rajgir: Bihar chief minister Nitish Kumar on Sunday inaugurated his dream project 'Har Ghar Gangajal Supply scheme' at water crisis prone town of Rajgir. Launch of Gangajal supply scheme at Rajgir is part of the ambitious project that envisaged supply of water from the river Ganga to every household in Gaya, Bodh Gaya and Nawada, in phases.
The excess water from river Ganga is collected at reservoirs in Rajgir, Bodh Gaya and Gaya during the floods and supplied to homes through pipes after proper treatment.
The Gangajal supply scheme will be inaugurated at Gaya and Bodh Gaya by the CM on Monday in presence of deputy chief minister Tejashwi Prasad Yadav, water resources minister Sanjay Kumar Jha and finance minister Vijay Kumar Chaudhary.
The same scheme to treated Gangajal will start in Nawada by June 2023 under this scheme. After the launch of the scheme, the chief minister hinted that water from Ganga would be supplied to the houses in Patna as well, if this scheme is successful. "In Patna, we will continue to get water throughout the year," added Kumar.
Also Read: Ganga Jal to flow in Gaya & Rajgir; Bihar CM inspects trial of lift water project
The supply of Gangajal stored in reservoirs would also help check the continued depletion of water table in Gaya, Bodh Gaya and Rajgir, which attract a large number of tourists from across the country and abroad every year. The unused surface water and increased level of underground water level would also help in irrigation.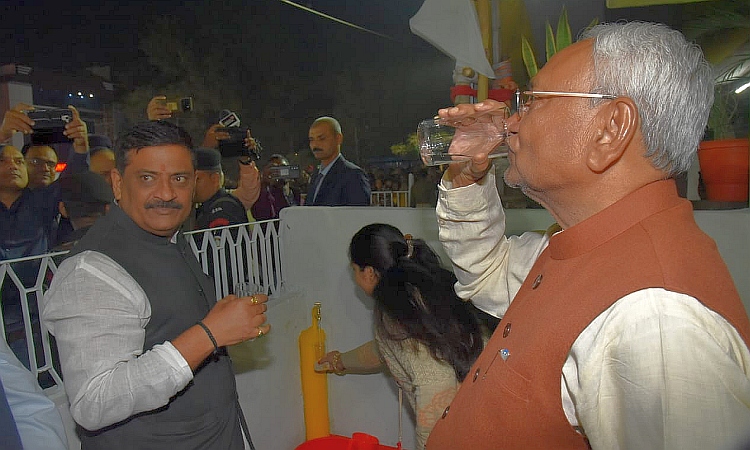 The most ambitious 'Gangajal Supply Scheme' was approved in a special cabinet meeting held in Gaya in December 2019 under the chairmanship of Kumar. Such a big scheme has been completed in less than three years despite the challenges of the Covid pandemic.
The water from river Ganga is taken Rajgir, Gaya and Bodh Gaya from Hathidah in Mokama, through 151 kilometers long pipeline and stored in the reservoirs. The water is purified and then supplied to households. Under the scheme, the target is to supply 135 liters of pure water per person per day.
Dy CM Tejashwi Yadav, finance minister Vijay Chaudhary, water resources minister Sanjay Jha, rural development minister Shravan Kumar and many other leaders were present.