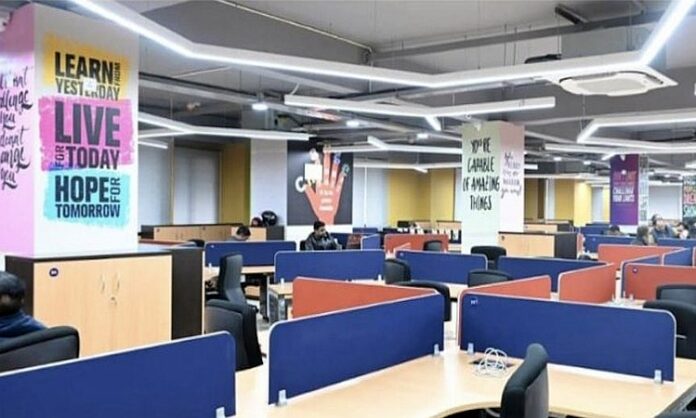 Mumbai: Demand for flexible office spaces has hit a new high after the pandemic, with major companies and businesses including start-ups now increasingly opting for coworking spaces. Latest Anarock data reveals that out of a net absorption of roughtly 8.2 Mn sq. ft. across the top seven cities, including Delhi-NCR, Mumbai metropolitan region (MMR), Pune, Hyderabad, Kolkata, Chennai and Bengaluru, in Q1 2023, coworking spaces had a 27% share. Back in pre-pandemic Q1 2019, its share was just 14% of a net office absorption of approx. 9.3 Mn sq. ft.
Among the top 7 cities, Bengaluru and NCR together accounted for 66% (about 1.43 Mn sq. ft.) of net coworking absorption in Q1 2023. Pune and Chennai together saw 0.52 Mn sq. ft. of coworking spaces absorbed in the same period. In terms of overall growth in coworking demand, the top seven cities witnessed a 90% growth in net absorption in this period – from 1.3 Mn sq. ft. in Q1 2019 to approx. 2.18 Mn sq. ft. in Q1 2023, said Anarock Group research.
Besides start-ups and other businesses, many IT/ITeS companies also prefer flexible spaces over regular office spaces today, with a strong emphasis on workspace flexibility for employees.
Also Read: Industries dept to open co-working space for startups in Patna
Utkarsh Kawatra, senior director – myHQ (Anarock Group), says, "Coworking spaces demand weakened considerably after Covid-19 disrupted the workplaces equation across the country. We're seeing a decisive reversal of this negative trend now, with coworking particularly attractive because of the disrupted IT/ITeS employment scenario."
What works very well for coworking now is the fact that such spaces are not concentrated in the city centres, like regular office spaces tend to be. Rather, they're mushrooming across different locations, including residential hubs. Coworking spaces now even operate out of malls and hotels, and many large office parks also have coworking quadrants. This helps companies to remain closer to their employees and thus offer them flexibility.
Flexible office spaces allow firms to deploy instantly rather than having to contend with office layouts and fit-outs, at costs comparable to regular office spaces which also involve long lock-in periods. Coworking spaces are shooting up in major cities with low Grade A offices vacancy levels and a higher demand from start-ups, freelancers and corporates looking to expand.
Also Read: IT state minister urges fin min to help startups tide over SVB crisis
In IT/ITeS-driven cities like Bengaluru, Chennai, and Pune, the relatively low vacancy levels in Grade A offices have spurred the demand for coworking spaces.
"This is also the case with Delhi NCR, where low commercial space vacancy levels have fostered a rich growth environment for coworking setups in areas such as Gurugram and Noida," says Utkarsh Kawatra. "In MMR, corporates looking to expand aggressively and shift their operational divisions to smaller distributed locations are focusing on coworking spaces."
South cities top coworking demand
Bengaluru, Hyderabad and Chennai – the key southern cities – together witnessed net office absorption of about 4.6 Mn sq. ft. in Q1 2023. Of this, 26% (or 1.19 Mn sq. ft.) was by coworking players.
The western markets of MMR and Pune saw net absorption of 1.48 Mn sq. ft. office space in Q1 2023. Of this, 24% (or 0.35 Mn sq. ft.) was by coworking players
In NCR, 32% (0.61 Mn sq. ft.) of 1.89 Mn sq. ft. absorbed office spaces were by coworking players
Kolkata saw a mere 0.25 Mn sq. ft. office space absorbed in Q1 2023, of which 12% (0.03 Mn sq. ft.) was by coworking players.
Advantages of coworking spaces
"The perception of offices has undergone a profound change since the pandemic – the workplace is now perceived as an environment that must be optimally managed," says Utkarsh Kawatra. "This necessitates an element of specialisation, in which the flexible space operators fill the niche as specialist workplace management firms. We are increasingly seeing the desire to cultivate an environment of collaborative enterprise that yields tangible benefits to the occupier, both in terms of cost and layout."
Also Read: Indian startups to launch space satellites, rockets soon
Many companies continue to follow a hybrid working culture, which involves setting up smaller satellite offices or remote teams using neighbourhood on-demand coworking spaces. All these use cases bode well for the coworking industry.
Going forward, we are likely to see developers of commercial office assets across the country align with such operators and carve out specialised coworking spaces for them. The expansion plans of major players and the increasing appetite for this format from occupiers, property owners, and coworking operators will fuel growth.