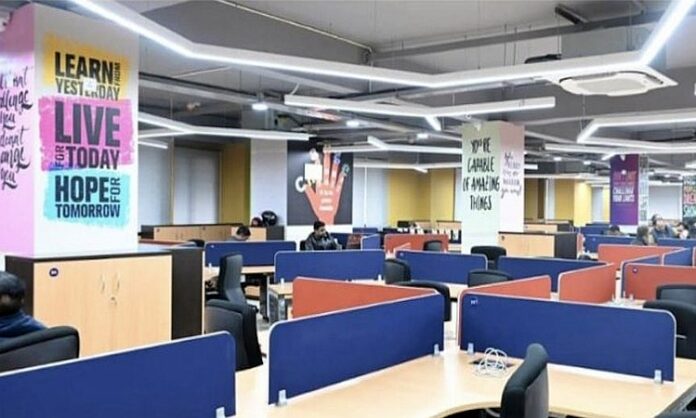 Patna: The state's industries department has set up co-working space for startup professionals—B-Hub—at Maurya Complex, the premier market complex in the heart of the capital city, with 175-seating capacity.
Chief minister Nitish Kumar is all set to formally inaugurate the B-Hub (or Business Hub) on Wednesday. The co-working space has been created with all infrastructure at fifth floor of Block-A and Block-B. Block-A has the seating capacity for 100 people, while around 75 people can work together in Block-B, said a senior officer.
CIMP has been given responsibility to man B-Hub
Principal secretary, industries department, Sandeep Poundrik said that Chandragupta Institute of Management Management (CIMP) has been given the responsibility of manage the B-Hub and provide technical assistance to the startup entities getting seat allotment there. Kumud Kumar, chief executive officer of the Business, Incubation and Innovation Foundation at CIMP has been made the nodal officer to deal with the startup entrepreneurs and allocate seats.
Also Read: 'Sustained efforts needed to develop Bihar as an industrial state'
How will B-Hub work?
Officials said that the co-working office space has elicited overwhelming response from the startup entrepreneurs, who have already booked their slots. However, half of the states are still up for the grabs. Startup entrepreneurs can get seats according to their business potential for a period of two years. At present, entrepreneurs from different fields have started working here, about 90 seats have been booked.
Qualification for startups to claim seats at B-Hub
Such startups, which are registered with the industries department in the state government or have received funds from the department, can start work here. It is an effort that all the facilities are available to the startup under one roof and their business clients also find it convenient to reach the location without any difficulty.
Also Read: Bihar comes up with new startup policy, does away with procedural hurdles
Facilities at the B-Hub
B-Hub is built on 13,800 sqft and is equipped with free and high speed wifi facility. Startup entrepreneurs will be provided counselling facility from chartered accountant and company secretary firm. Entrepreneurs are also made a part of the mentorship program. At present, startups related to health, waste management, travel and tour management, natural products and finance are working here.
Another B-Hub coming up on Frazer Road
Officials said that another co-working office space is being created for 250-seats in the office premises of Bihar State Food Corporation (BSFC) Ltd. The setup will be up for allotment very soon.
Also Read: Govt picks 15 startups to bolster healthcare, agriculture domain
Rent for seats
The seating enclosures can be booked for a period of two years either on floating or fixed rates. As per the norms, ₹1500 will be charged for per seat per month for general category entrepreneurs, ₹1400 for women and transgender and ₹1300 for Divyang and SC-ST community entrepreneurs. Those opting for floating rates can book it for ₹1,000/month. There will be no fixed table/chair for those opting for floating rent. They will have to work from the table whichever is vacant at the time.