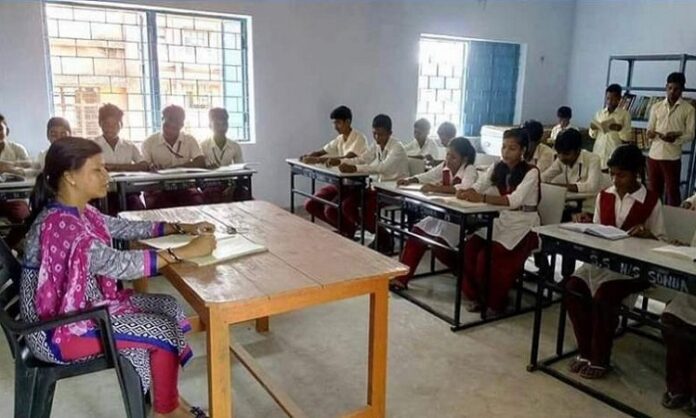 Patna: Stage is now set for appointment of around 1.78 lakh teachers in Bihar after the state cabinet on Tuesday approved the education department's proposal for creation of as many posts. The post of teachers, from primary to higher secondary levels, have been created in the wake of surrender of the posts, which were earlier earmarked for appointments by the urban local bodies (ULBs) and panchayati raj institutions (PRIs).
After the cabinet meeting, chaired by chief minister Nitish Kumar, additional chief secretary, cabinet secretariat department, S Siddharth said that all the new positions of teachers have been created under the education department, which would send the requisition to Bihar Public Service Commission (BPSC) for filling up the vacant posts as per the recently approved Bihar State School Teachers (Recruitment, Transfer, Disciplinary Action and Service Conditions) rules 2023.
As per the cabinet decision, as many 57618 posts of teachers in higher secondary (11-12 class), 33186 of secondary (class 9-10), 1785 (6-8 class) and 85477 primary sections (1-5 class) had been created.
New salary structure announced for fresh lot of teachers
The state education department has already notified new scales of teachers of different categories to be appointed under the new policy. Under the new recruitment process, primary teachers (class 1-5) will have a basic salary of ₹25,000 while the gross salary with dearness allowance, house rent and medical allowances will come to around ₹38,000. There will be some other perks also and net salary of teachers ranges between ₹35,000 to 51,000 per month. The scale significantly higher than those of around 60,000 fixed pay teachers, already working in the schools.
Also Read: Unfazed Bihar govt firm on new recruitment norms for teachers
Teachers' appointment to cost ₹10,623-Cr to govt
The appointment of 1.78 lakh teachers will cost the state exchequer ₹10,623 crore. For the existing list of teachers appointed through the BPSC, there will be an option to take the uniform exam for an upgrade to get the status of government employees.
With the cabinet giving its nod to the new teachers' recruitment rules in early April, decks were cleared for the long-pending recruitment of teachers in Bihar.
Major policy shift in education
Appointing teachers through BPSC is a major policy shift of the Nitish Kumar government, which was stuck with the appointments through PRIs and ULBs all through since 2006, despite concerns expressed over quality and controversies surrounding the alleged doctoring of documents landing in the Patna High Court. A vigilance probe has been going on under HC watch for the last seven years.
Also Read: Bihar govt approves rules for teachers' recruitment
Teachers' bodies plan statewide stir
Meanwhile, Bihar secondary teachers' association, the oldest teachers' body in state, along with primary teachers' bodies have planned phase wide agitation against the new recruitment policy for teachers. On May Day, teachers' bodies protested at the district level across the state and wore black badges.
Also Read: Bihar: Only 3.22% teachers pass test for promotion as Head Masters
"If the government does listen to our demands, there will be division-level protests from May 20 before the commissioners and after that it will be state-level. The pay-scale announced is yet another humiliation of teachers. We will also take legal recourse once it is vetted by the cabinet. Teachers have been humiliated constantly since 2006, when their pay-scale was destroyed. Did Bihar not have teachers before 2006? They were appointed through a uniform process, they were government employees and had a respectable salary structure to draw talented lot," said former MP and president of the Bihar state secondary teachers' Association, Shatrughan Prasad Singh.