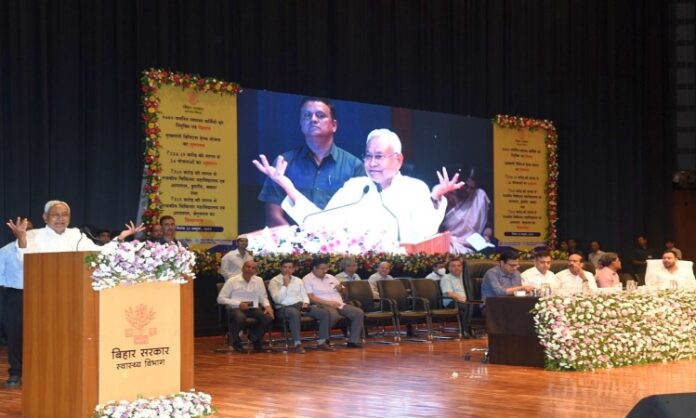 Patna: Bihar will have two more government medical college and hospitals, one at Dumraon in Buxar and another at Begusarai, in the next two-three years.
Chief minister Nitish Kumar on Friday laid the foundation stones for construction of the two medical colleges and hospitals with 500-bed capacity each and 100 seats each for admission in the Bachelor in Medicine and Bachelor in Surgery (MBBS) courses. The medial college and hospitals will be built at the cost of around ₹515 crore each.
At a programme held in the state capital, from where the foundation stones for building of the two institutions were launched, CM Kumar reiterated his resolve to open at least one medical college and hospital in each district. He also distributed appointment letters to 9,469 selected health employees on the occasion.
There are as many as 11 government medical colleges and six private medical colleges in Bihar. The total MBBS seats in Bihar 2022 government medical colleges are 1,390 and the total seats offered by private medical colleges in Bihar are 750.
In 2018, the state government had announced to build at least 13 new medical colleges and hospitals in Bihar. If completed on time, the state will have altogether 26 such medical institutions. The state Indira Gandhi Institute of Medical Sciences (IGIMS) and AIIMS, Patna, as autonomous medical and health institutions.
Of the 13 medical colleges coming up MoU has been signed with the Centre for five at Jamui, Buxar, Madhubani, Sitamarhi and Siwan while the Centre has already given its approval for three more at Purnia, Chhapra and Samastipur.
The Madhepura based medical college and hospital, which is being built at the cost of ₹781 crore will be operational by March next. Another in East Champaran was also under construction while a dental college will come up at Rahui in Nalanda district with 100 bed hospital. One private medical college has got approval at Madhubani.
"The courses of MBBS will be carried out in all these medical colleges once they are complete. All these medical colleges will have hospitals attached with them," said an official, adding that a 106 bed super speciality eye hospital was also being setup in Patna.
Mukhamantri Digital health scheme launched
Kumar also launched the long-awaited Mukhya Mantri Digital health scheme. The scheme aims to leverage the digital facilities for better treatment of the people. Emboldened by the success of initial trial launch in two districts like Muzaffarpur and Nalanda, the CM had given his nod for the health department's proposal to go for a full-fledged pilot project in three districts.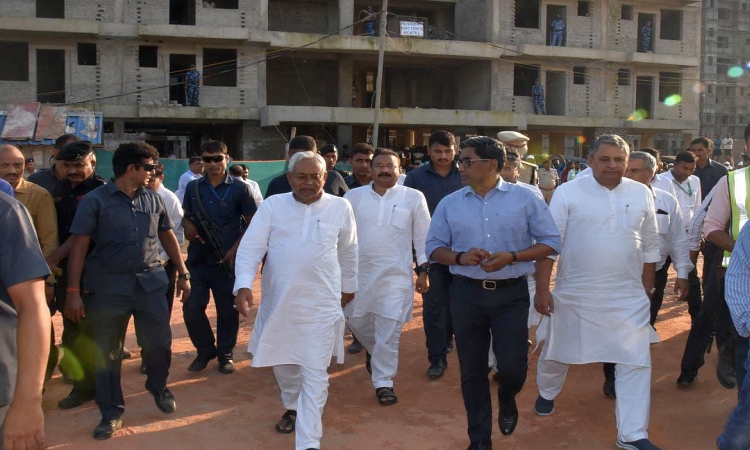 The main objective of the programme, to be executed and operationalised in the next five years at the cost of ₹300, is to facilitate paperless treatment of the patients on 24×7 basis. All test records of the patients will be available in digital format and could be accessible by the medical institutes through a centralised server at Patna. The state government has allotted ₹100 for implementation of the scheme this fiscal.
Bihar health society to recruit 11,000 more staff
The state health society will make another 11,000 new appointments in the coming years. Also, the health department recruited 12,800 employees in the last five years. The department has begun the process to make 11,400 new appointments. More than 37400 people have been appointed in the last five years at various levels in the health sector.
Also Read: Bihar Govt approves new medical college & hospital in Supaul
Nitish Kumar pointed out that earlier the process of appointments used to get delayed and because of that technical Service Commission was constituted. "We constituted a technical service commission so that appointments in the government departments could be expedited," he said. Bihar Deputy Chief Minister and Health Minister Tejashwi Prasad Yadav was also present on the occasion.