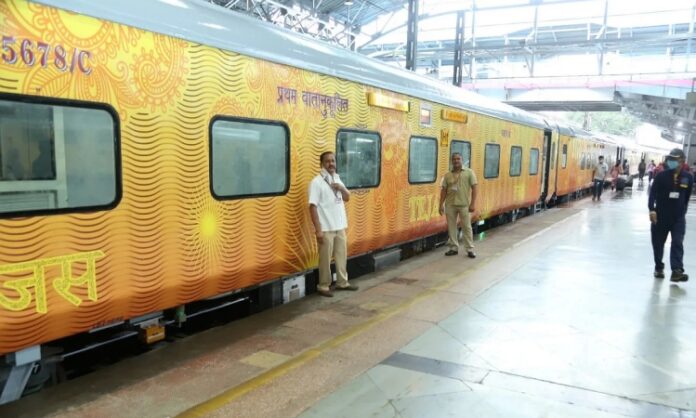 Patna: In keeping with huge rush of Bihar bound passengers in trains, the Indian Railways has decided to run festival special Randhani Express between Delhi and Patna from Saturday (October 22). As scheduled, the train will continue to ply till October 27.
Chief public relations officer (CPRO), east central railway (ECR) zone, Birendra Kumar said that festival special Rajdhani express (02249) will start to run from New Delhi at 7.10pm on October 22 and reach Patna at 6.50am with stoppages at Kanpur Central (at 12.02am), Prayagraj (02.13am) and Pt Deendayal Upadhyay Jn (4.02am).
The 02249/02250 Patna-New Delhi-Patna festival special Rajdhani Express will run from New Delhi on October 25 and 27 as well on same schedule.
On the way back, 02249 Patna-New Delhi festival special Rajdhani Express will leave Patna at 9.00am on October 23 and 26 with stoppages at Pt Deendayal Upadhyay Jn (at 11.37am), Prayagraj (at 1.37pm) and Kanpur Central at 3.45pm and reach New Delhi at 8.55pm.
Also Read: Railways okyas plans to strengthen tracks on strategic North-East front
The train will operation with one coach of first air-conditioned class, two coaches of second air-conditioned class and 16 coaches of third air-conditioned class.
58 special trains to run in ECR zone to deal with festive rush
The railway ministry has given its go ahead to the ECR proposals to run as many as 58 special trains to clear the huge rush of passengers during Diwali and Chhath puja. The trains will run on different dates till Chhath.
The CPRO, ECR, said that the railway ministry cleared running of 12 pairs of express trains in addition of the 46 pair trains earlier. The trains will make around 500 rounds of travel during the festive season.
Also Read: Railway Board sits over plan to run double-decker train via Patna, Gaya
Prominent special trains, which were allowed to run are 04003/04004 Delhi-Darbhanga, 04005/04006 Delhi-Darbhanga, 04052/04051 Anand Vihar Terminus-Saharsa, 04054/04053 Anand Vihar-Muzaffarpur, 04082/04081 Anand Vihar-Muzaffarpur, 034014/03413 Dehradun-Muzaffarpur, 08109/08110 Santaragachhi-Patna, 04678/04677 Firozpur Cant-Patna, 04036/04035 Delhi-Bhagalpur super fast, 04680/04679 Amritsar-Katihar, 04316/04315 Dehradun-Howrah and 08117/08118 Shalimar-Barhni express.