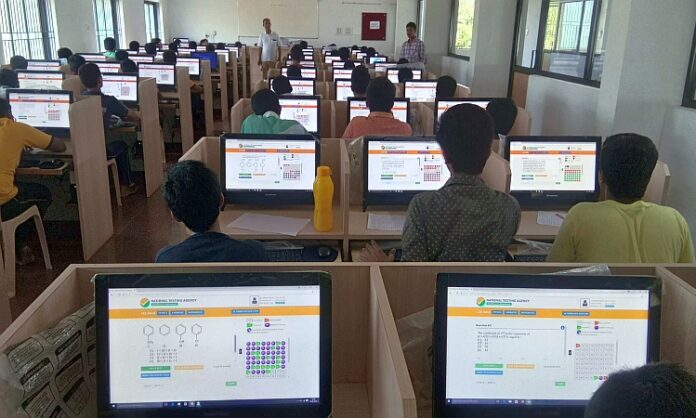 Mumbai: The Bombay High Court on Wednesday rejected the plea to remove 75% marks  criterion, laid by the National Testing Agency (NTA), to allow the students participate in the JEE Advance and left the issue on the government to decide on the marks category of Class-XII students.
A plea has been filed in the court to challenge the 75% marks eligibility criterion for this attempt. A division bench of acting Chief Justice Sanjay V Gangapurwala and Justice Sandeep V Marne said that they "can't intervene with the ongoing process at this stage."
The bench, however, added that it is for the "government to consider students' grievances. We have our limitations as a Writ Court… The Supreme Court has powers." The bench concluded the hearing and reserved its order.
Also Read: NIRF ranking: IIT, Madras tops list, ISM, Dhanbad & IIT, Patna, in top 100
The National Testing Agency (NTA), which conducts the Joint Entrance Examination (JEE) for taking admission of the students in the engineering colleges, including Indian Institutes of Technology (IITs), Indian Institutes of Information Technology (IIITs), National Institute of Technology (NIT) and many other government funded engineering colleges, had sought for dismissal of the petition, saying that decision was "conscious and well-considered" and the relaxation of the criterion for previous academic years was "one-time measure".
Also Read: NTA hikes JEE (mains) registration fee by up to 146%
The 75% eligibility criterion
According to the JEE Advanced brochure released this year, candidates should have secured at least 75% in Class 12 board exams with the aggregate marks for SC, ST, and PwD candidates at least 65%, or should be within the category-wise top 20 percentile of successful candidates of their respective boards.
This eligibility criterion was in practice earlier too but was temporarily removed in Covid years. However, as all state and national boards returned to normalcy, the criterion was also restored.
Also Read: 12 IIT-P, 21 IIT-Guwahati professors among top 2% global scientists
The plea, which has been filed by child activist Anubha Srivastava Sahai, was heard in the Bombay High Court on April 24 by a double bench comprising acting Chief Justice Sanjay V Gangapurwala. However, advocate Rui Rodrigues, representing the NTA, sought time to file a reply and sought the matter to be heard after a week.
"Unless it is an exceptional case, how far we can intervene in an education case. We will have to see that under Article 226 of the Constitution… We do not have powers under Article 142. This impugned condition was there prior to Covid-19 and it was relaxed only during Covid-19," the bench said.