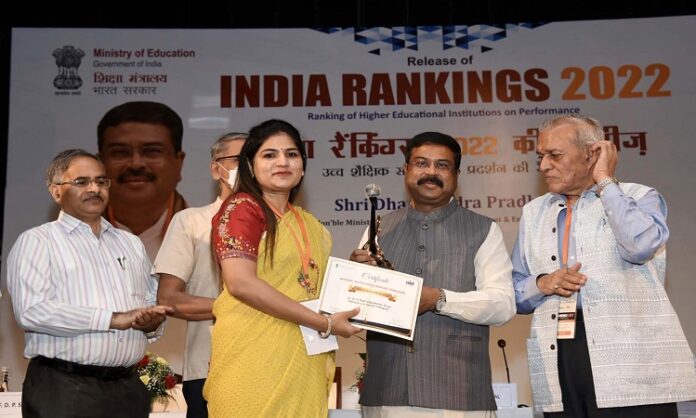 New Delhi: The Indian Institute of Technology (Indian School of Mines), Dhanbad and IIT, Patna are the only two institutions in entire Bihar and Jharkhand region that figured among top 100 higher education institutes ranked by the National Institutional Ranking Framework (NIRF)-2022.
Union Minister of Education and Skill Development Dharmendra Pradhan released the eighth edition of NIRF ranking at a function held here on Friday. IIT, Madras, Indian Institute of Science (IISc), Bengaluru, and IIT, Mumbai, emerged as the top three institutions as per the overall performance in this year's ranking.
Speaking on the occasion, Pradhan said that our HEIs are working towards making our education ecosystem more vibrant and developing our youth future ready. "A robust and objective framework for assessment, accreditation and ranking will play a major role in enhancing quality in the higher education ecosystem," he added.
The Minister further said that we are moving towards creating a knowledge-based economy which is innovation-led and technology-driven. Our higher educational institutions have to play a key role in making India a leading global innovation and digital economy and making quality education affordable and accessible for the bottom of the pyramid population, he added.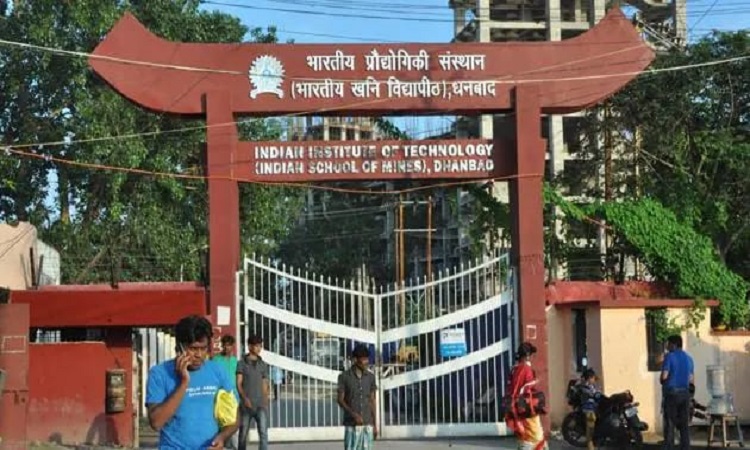 Two institutes of Bihar & Jharkhand get in top 100
The Indian Institute of Mines (ISM), Dhanbad, now upgraded as IIT, and IIT,Patna, are the only two technical institutions which managed to be ranking among the top 100 institutions of the country in the NIRF ranking. ISM, Dhanbad has been placed on 38th position with 53.87 score, while the IIT, Patna managed has been ranked at 59th with 49.47 points.
All institutions shall be part of NIRF ranking system
The Minister said that the Government would unify institutional accreditation presently are done by NAAC and programme accreditation presently being done by NBA from next year. "Ranking on innovation done earlier by All India Council for Technical Education (AICTE) will henceforth be integrated with NIRF.  All institutions will be a part of the combined system of assessment, accreditation and rankings. Such a system will be transparent and objective.
Also Read: IIT Patna signs MoU with Redinent to foster R&D in cybersecurity
Five broad categories of parameters & weightage
The National Institutional Ranking Framework (NIRF), launched in November 2015 by the Ministry of Education, was used for this edition as well as for the past six editions of India Rankings released for the years 2016 to 2022. Five broad categories of parameters identified in the NIRF and their weightage are Teaching, Learning & Resources, Research and Professional Practice, Graduation Outcomes, Outreach and Inclusivity & Perception.
Increase in number of applicants for rankings
A total number of 4,786 unique institutions offered themselves for ranking under "Overall", category-specific and / or domain-specific rankings for India Rankings 2022. In all, 7,254 applications for ranking were made by these 4,786 unique institutions under various categories / domains including 1,876 in Overall Category, 1,249 in Engineering, and 2,270 in General Degree Colleges.
Also Read: Wither education: Who to blame?
A noticeable increase in institutional participation in the rankings exercise this year indicates its recognition amongst institutions of higher education in India as a fair and transparent ranking exercise. Number of unique applicants to India Rankings have increased from 2,426 in 2016 to 4,786 in 2022 whereas total number of applications for ranking in various categories have increased from 3,565 in 2016, to 7,254 in 2022 i.e. total increase of 2,360 (97.28% increase) in unique institutions and 3,689 (103.48% increase) in total applicants.
Jump in number of institutions ranked from 2016 to 2022
While 100 institutions are ranked in Overall, Universities and Colleges categories, number of institutions that are being ranked in Engineering has been increased to 200 from 2019 onwards. Moreover, number of institutions ranked in Management and Pharmacy are being increased from 75 to100 each from this year onwards. However, number of institutions ranked are restricted between 30 and 50 in subject domains namely Architecture, Law, Medical, Dental as well as in Research Institutions. Additional rankings are suitably bunched in Rank Bands of 101-150 and 151-200 in case of Overall, Universities and Colleges, 201-250 and 251-300 in case of Engineering and 101-125 in case of Pharmacy and Management.
Key Highlights of India Rankings 2022
IIT, Madras, retains its 1st position in overall category for 4th consecutive year
Top 100 in Overall category consists of 40 CFTIs & CFUs, including 38 tech institutes
26 state varsities, 24 deemed varsities, 6 pvt varsities, 7 medical institutions ranked
IISc, Bengaluru tops the universities Category for 7th seventh consecutive year
IIM, Ahmedabad tops in management retaining its 1st position for 3rd consecutive year
All India Institute of Medical Sciences, New Delhi occupies top slot in medical institutions
Jamia Hamdard tops the ranking in pharmacy for 4th consecutive year
Miranda House retains the 1st position amongst Colleges for the 6th consecutive year
IIT, Roorkee stands at 1st position in architecture subject for 2nd consecutive year
National Law School of India University, Bengaluru retains its 1st position in Law
Colleges in Delhi dominate colleges' ranking; 5 out of first 10 colleges are from Delhi
Saveetha Institute of Medical & Technical Sciences takes 1st slot for the first time
Click the link to see India Rankings 2022: https://www.nirfindia.org/2022/Ranking.html