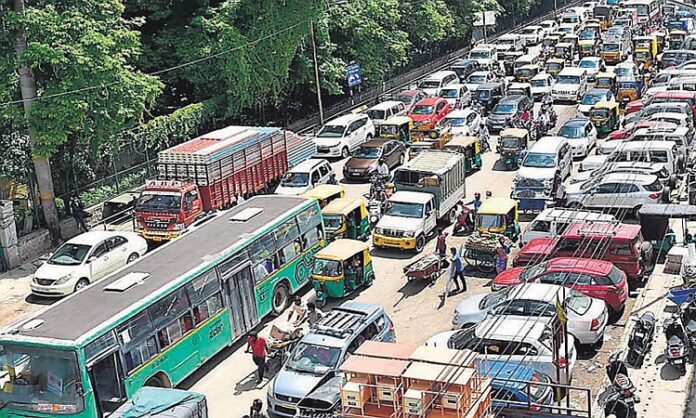 Bengaluru: Tech professionals of Bengaluru want the new government in Karnataka to look for a sustainable solution to traffic jams on high density roads on a priority basis.
They said that help of artificial intelligence and technical expertise could do a lot to ease perennial traffic snarl-ups. "Expansion of metro rail network and running of more electric buses will also help the improve public transport in the cosmopolitan city of Bengaluru," said an information technology industry veteran.
Dismissing the general perception that techies don't turn up in large numbers to vote, another IT professional said that they do participate in the democratic processes for betterment of the governance. "Though we avoid getting affiliated with any political outfits owing to our professional limitations, it's not that the government policies don't affect us. Corruption has been the most pronounced issue we have been grappling at every intervention of the government," she said.
Also Read: BBMP's crucial meet on Nov 14 with stakeholders to resolve ORR issues
"Every successive government becomes more corrupt than the previous dispensation. The corruption has reached to such a high that candidates in the Assembly elections in Karnataka splurge generously to virtually buy votes," alleged another tech professional in Bengaluru.
"Citizen of Bengaluru wish that the metro rail network is complete and expanded to 250 km. There shall be a fleet of not less than 15,000 electric buses to ferry commuters in Bengaluru. This will also help check the level of pollution and stop felling of trees," Sanjay Kumar said, adding that there is a need to ease traffic and decongest 12 high-density roads.
Also Read: Clamour to save trees from Bengaluru's PRR project grows louder
He said every year 2.5 lakh to three lakh technology professionals get employed in Bengaluru, with half of them being from outside. "It is difficult for the people to get here registered after coming from other states. Many of them say they are going to go back home in the next two or three years, then why should we change our registration. Whatever the policy, but people from all over India keep coming to Bengaluru and here load is growing by the day. Hence the city needs better civic amenities and transport facilities," he said