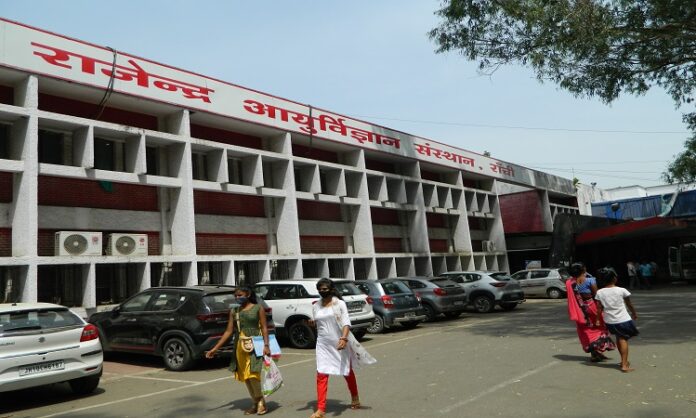 Ranchi: The Rajendra Institute of Medical Sciences (RIMS), a premier health institute of the State Government in Ranchi, has operationalised the genome sequencing facility amidst the resurgence of Covid infections in Jharkhand.
State Health Minister Banna Gupta formally inaugurated the high-tech machine, which arrived in package from the Central government at RIMS about three months ago. With this, doctors would be able to detect the variants of Corona infecting the people within 72 hours.
Previously, the samples of oropharyngeal or nasopharyngeal swab used to be sent to Bhubaneshwar in Odisha or Pune in Maharashtra to get the genome sequencing done to detect the variants of Covid. "We had to wait for 30-45 days for getting the genome sequencing reports from the labs in other states," said Minister Gupta, while launching the machine at a function in RIMS.
The machine has been installed in the Department of Genetics and Genomics, which was also opened in RIMS same day. Anupama Prasad has been made head of the newly set up department. "It takes ₹13-15 lakh to run one test, which can accommodate a maximum of 96 samples at a time," said people familiar with the testing mechanism.
Also Read: Ranchi's Sadar Hospital to become super specialty centre
Anupama Prasad said that usually the sample reporting took 5-7 days to get the final result from the date of collection of the swab. The result will, however, depend on the quality and concentration of the DNA. "It can be done within three days in case of emergency," she said, adding that the machine would also help the doctors detect the genetic ailments and treat them.
This is the first time the institute is conducting genome sequencing with recently collected samples of Covid-19 amid the growing threat of the new variant Omicron across the world. The RIMS is the only institute in Bihar to be a part of the Insacog (Indians SARS-CoV-2 consortium on genomics), a network of laboratories working on genomic surveillance of Covid-19, set up under the Ministry of Health and Family Welfare to study and monitor genome sequencing and virus variation of circulating strains of Covid-19 in India.
Meanwhile, as many as 92 cases of Covid infection were reported on Wednesday, which is highest in the past 120 days. The state has got Covid infection rate of 1.26%.