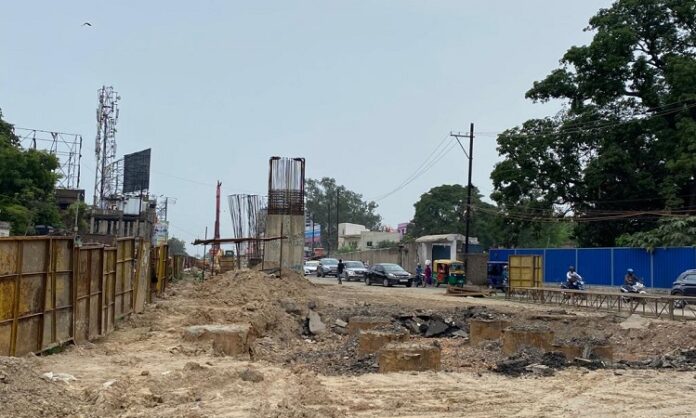 Ranchi: The work on under construction Kantatoli flyover—a crucial road junction that connects Ranchi with Jamshedpur, and Patna—may suffer disruption, yet again.
Officials of the construction company, DRA Infracom Private Limited, which is based at Ahmedabad, said that they might have to suspend the work if they were not allotted encroachment free land to lay the foundation.
The construction company has started pilling work near Kantatoli chowk after the Jharkhand Urban Infrastructure Development Company (JUIDCO), an engineering arm of the State Urban Development Department, allotted the work in substantially increased estimate after Modi Construction Company refused to carry on the work earlier.
Officials of the construction company said that they required encroachment free land from Yogda Satsang Ashram to Kokar's Shanti Nagar stretch of the Hazaribagh road, the details of which have been sent to the JUIDCO. "As many as 27 plots along the road have been identified for acquisition. Of the total, eight plots are of the Ranchi Municipal Corporation, while the rest are of raiyyats or other organisations," said the official, adding that electric poles and water pipelines were other obstructions in the construction.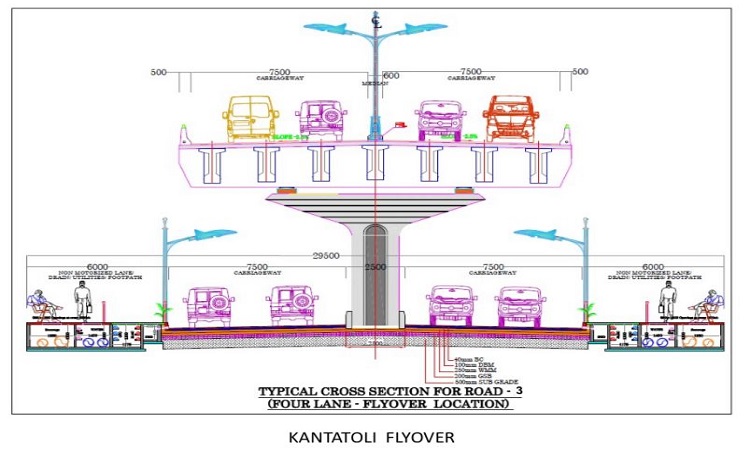 In September last year, the State Cabinet gave its approval for construction of a 2,240-meter Kantatoli flyover connecting Yogada Satsang to Shantingar in Kokar via Bahu Bazar at the cost of ₹224.94 crore to decongest one of the busiest roads of the State Capital.
Also Read: Ranchi's Sadar Hospital to become super specialty centre
Kantatoli flyover scheme is one of the oldest infrastructure projects, which was conceived in 2010. Initially it was planned to be built in 1250 length, from Bahu Bazar to Kokar at the cost of ₹40 crore, which escalated to ₹84 crore and then rose to ₹187 crore in 2016, by the time Modi Construction Company, a Bengal-based company, was awarded the work. However, the company left the work after the JUIDCO failed to provide necessary land for the construction.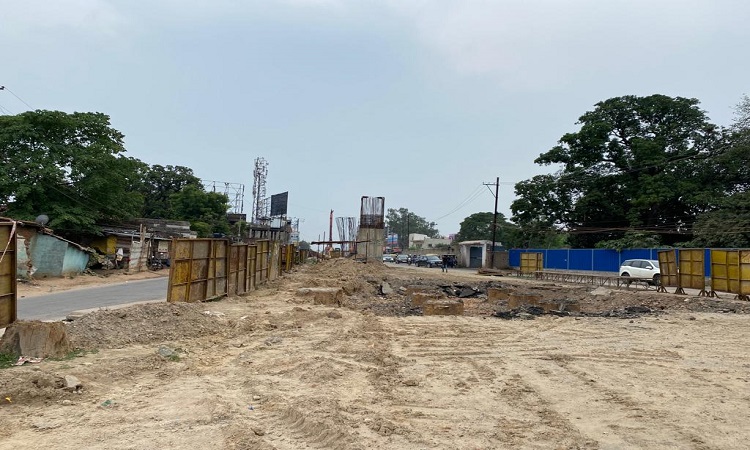 The cost escalation, a JUIDCO officer, said that was mainly attributed to increase in length of the project by around one kilometre. He also said that the Energy Department has been given ₹8 crore to remove electric poles, which is yet to start.
Also Read: Jharkhand: RCD proposes ₹122cr ring road to link Bariatu with Kanke Road
Officials of the DRA Infracom Ltd said that the project might suffer delay and it might not be complete by March 2024 deadline.
Meanwhile, people crossing the Kantatoli flyover to go to the Ranchi railway station or Birsa Munda Airport from city area or Jamshedpur from the town have to face massive traffic jams due to the congestion near the construction site. "It takes more than an hour to reach Ranchi railway station from Lalpur, which was barely a 20-25 minute journey earlier. Only one lane is in operation at the busiest road crossing, as the district authorities failed to remove encroachments near the roads," said Mahip Singh a native of Dangra Toli.