New Delhi: The Indian Space Research Organisation's (ISRO) launchpad at Sriharikota, an island of Andhra Pradesh, on Friday stood a witness to a new chapter in India's space odyssey after Vikram-S rocket successfully lifted off with three customer's payloads.
It's for the first time when a rocket developed by a private agency, Skyroot Aerospace Private Limited (SAPL), took off from ISRO's launchpad and inserted the payloads in to sub-orbital zone in the space.
The six-metre tall single stage solid fuel launch vehicle hit the peak altitude of 89.5km before splashing in to the Bay of Bengal after five minutes of the take off at 11.30 am. Named after Vikram Sarabhai, the father of space technology in India, the launch vehicle flew into the space with lift-off mass of 545kg and payloads weight of 80kg.
The mission, named Prarambh, was being watched closely from across the globe as many agencies were eager to bank on the private launcher for their space mission from India. It was also a technology demonstration flight for the SAPL, which came into being as a startup company in the year 2018. The same technology rocket will be used for the next mission, Vikram-1 orbital, of SAPL sometime next year.
Also Read: Skyroot defers maiden launch of its spacecraft due to bad weather
Founded by Pawan Kumar Chandana and Naga Bharath Daka in June 2018, the SAPL is now the largest funded space startup in the country. It has around 200 employees and capital funding of around ₹525crore. "We started four years ago and when we started there was no policy but we took that leap with faith. But now the policy has come up and we got support from ISRO," Chandana said.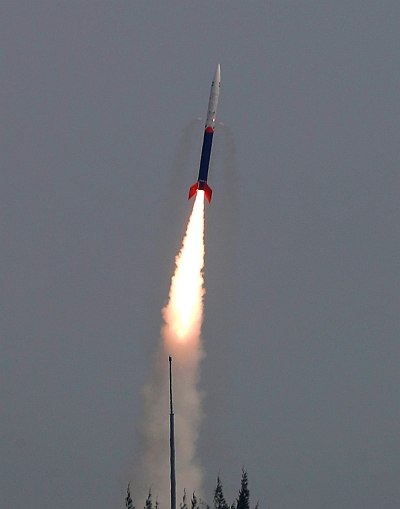 Soon after the successful launch of India's first ever private rocket launch, Union minster for earth science Jitendra Singh, who was personally present at the launching site, in his very first reaction said , "Congratulations India! A new beginning in India's space journey! A turning point for India's Start-Up movement! Kudos ISRO for a new feather in your much decorated hat."
ISRO said, "Mission Prarambh is successfully accomplished", while the Skyroot Aerospace said, "Vikram-S makes history as the first private rocket of India to grace the skies."