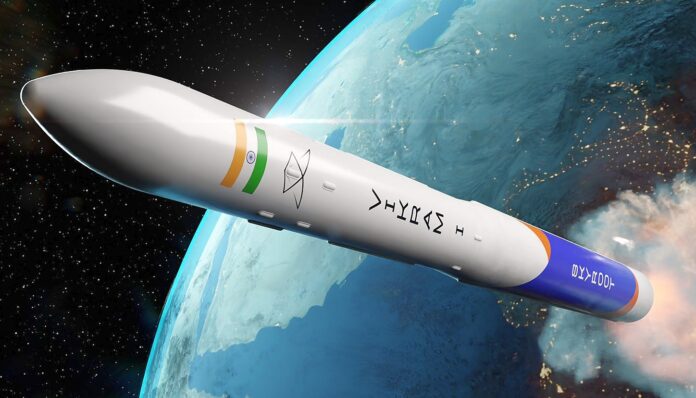 Hyderabad: The much-awaited launch of Vikram-S rocket, a privately built rocket, has been postponed for three days due to bad weather. A Hyderabad-based space startup Skyroot Aerospace said on Sunday that the launch date of Vikram-S, which was originally scheduled for launch on November 13, has been postponed for three days owing to unfavourable climate conditions.
The sub-orbital launch the satellite has been postponed for three days. This means that the indigenous rocket Vikram-S can now be launched only after November November 18. A Skyroot Aerospace spokesperson said that due to bad weather forecast, a new window has been given for the launch of Vikram-S rocket from Sriharikota from November 15 to 19, with the most likely time at 11.30 am on November 18
The Hyderabad-based space startup said on Sunday that the rocket in its the maiden venture, titled 'Prarambh', will take three payloads to the space. Two Indian and one foreign clients have already carried their space payloads to the Indian Space Research Organization (ISRO) launch site at Sriharikota.
The mission is considered an important milestone for Sky Route, as it will help validate 80% of the technologies that will be used in the Vikram-1 orbital vehicle, which is scheduled to launch next year. A Skyroot spokesperson said, "Key area performance of solid propulsion engine Kalam-1 will be monitoring closely, as we would be using the same tech for future evolution," said the company official.
Also Read: ISRO to test small satellite launch vehicle, place satellites in LEO
Chennai-based aerospace startup SpaceKidz will launch the 2.5 kg payload 'Fun-Sat', developed by students from India, the US, Singapore and Indonesia. With this mission, Sky Route is poised to become India's first private space company to launch a rocket into space. This will usher in a new era in the space sector.
Also Read: After OneWeb launch, ISRO eyes solar & lunar missions next year
The space sector in India has been opened for private participation in the year 2020. The Skyroot launch vehicles are named 'Vikram' in tribute to the founder of the Indian space program and renowned scientist Vikram Sarabhai.